Last call for safety message contest entries
Last call for safety message contest entries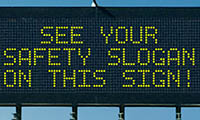 By Doug Pacey / ADOT Communications
After launching our Safety Message Contest last week, we've spent most of the past few days sifting through thousands of clever entries.
The response has been so incredible -- we received 4,000 submissions in the first 24 hours -- that we're changing the contest rules. In a good way!
Instead of whittling down to 15 finalists, we'll select 20. And instead of displaying one winning message on Dynamic Message Signs, the top two vote-getters will appear on signs for one day each in April.
Haven't entered your winning safety message yet? There's still time! Submissions will be accepted at azdot.gov/signcontest until Sunday, Feb. 19.
When creating your message, follow these guidelines:
Signs accommodate three lines and 18 characters, including spaces, per line
#Hashtags, phone numbers and website addresses are not allowed
Signs can't accommodate emoji
In March, we'll post the 20 finalists to our website and let the public choose the winners.