A look back at some of ADOT's milestones from 2013
A look back at some of ADOT's milestones from 2013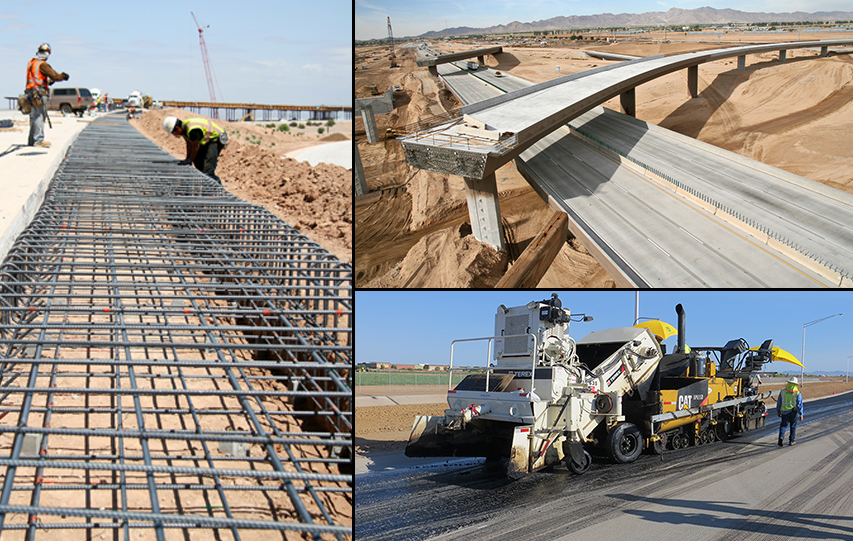 Here we are, six days into the New Year, and we're still thinking about 2013.
Don't get us wrong, 2014 is going to be a great year and we are excited for what's ahead (including the blog posts and videos we already have in the works!).
It's just that 2013 was full of some pretty big accomplishments here at ADOT and we can't help but want to look back. So, join us today and tomorrow as we review the year that included plenty of projects, a call for the public to "Move Over".
Let's get started with a Phoenix-Area Freeways wrap-up…
Loop 303 Improvements
ADOT Blog readers certainly know about the progress that was made in 2013 on a series of projects on and near the Loop 303. The projects are all aimed at improving Loop 303 into a modern six-lane freeway between I-10 and US 60 (Grand Avenue) in the West Valley.
This fall, ADOT completed a $128 million project to reconstruct the former two-lane highway into an urban freeway from Mountain View Boulevard, just south of Grand Avenue, to Peoria Avenue in Surprise. A six-lane stretch of Loop 303 also is open between Peoria and Glendale avenues, while crews will complete work on other projects in 2014, including the $145 million interchange that will link I-10 with Loop 303 in Goodyear.
State Route 24 (Gateway Freeway)
You remember this one. The first one-mile leg of SR 24 (Gateway Freeway) between Loop 202 and Ellsworth Road in southeast Mesa is nearing completion. Crews have constructed elevated ramps that will soon connect Loop 202 and SR 24 near Phoenix-Mesa Gateway Airport. The $71.4 million project started in March 2012 and is due to be open to traffic by spring 2014.
US 60 (Grand Avenue) Improvements
US 60 (Grand Avenue) has been resurfaced between 71st and 83rd avenues in Peoria as part of a project that included landscaping, fencing and wall installations. ADOT also kicked off a larger $12.7 million Grand Avenue improvement project between 71st Avenue in Glendale and 19th Avenue in Phoenix. Turn-lane additions and new traffic signals are among the enhancements. A much-needed second left-turn lane along northbound 19th Avenue approaching Grand Avenue was installed in time for the Arizona State Fair in October. The entire project will be completed in 2014.
Loop 202 South Mountain Freeway
ADOT hosted a public meeting in May at the Phoenix Convention Center for the proposed Loop 202 South Mountain Freeway. The freeway would run east and west along Pecos Road and then turn north between 55th and 63rd avenues, connecting with I-10 on each end. The South Mountain Freeway is the last piece to complete the Loop 202 and Loop 101 freeway system necessary for high-quality regional mobility.
The project has been a critical part of the Maricopa Association of Governments' Regional Freeway Program since it was first included in funding through Proposition 300 approved by Maricopa County voters in 1985. The freeway was also part of the Regional Transportation Plan funding passed by Maricopa County voters in 2004 through Proposition 400.
The proposed project is currently in the developmental phase and ADOT is preparing the Final Environmental Impact Statement and Record of Decision, which is expected in 2014.
Loop 101 HOV-Lane Ramps (Maryland Avenue)
This one started in late 2013. It was just in October that ADOT launched construction of Loop 101 HOV-lane ramps at the Maryland Avenue bridge near the Westgate Entertainment District in Glendale.
When completed in 2014, the $11.7 million project will add access points for Westgate and venues such as Jobing.com Arena and University of Phoenix Stadium. The ramps, which have already started taking shape, also will be available for use well before the Arizona Cardinals' 2014 season and the 2015 Super Bowl.
Stay tuned...
That's enough reminiscing for one day, but come back tomorrow when we'll review some of the major milestones related to the state highway system! We also will look at some of the planning that took place in 2013 and highlight other ADOT accomplishments.