A look at the South Mountain Freeway public meetings
A look at the South Mountain Freeway public meetings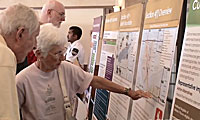 ADOT hosted a public hearing and several community forums over the last few months to get input on the South Mountain Freeway draft Environmental Impact Statement...
If you attended one of those meetings, you know that they were a chance to learn more about the project A look at the South Mountain Freeway public meetings and give your feedback.
If you didn't attend, but want to know what you missed out on, you're in luck!
The video above gives a great overview of the events and shows how public input is a vital part of any ADOT project.
ADOT Assistant Communication Director Brock Barnhart explains in the video that the dialog doesn't end after you give your feedback. All of the comments are considered before moving forward.
"The next step is to compile all the different comments and then we start responding to those comments," Barnhart says. "From there we'd be looking to share with the public the final environmental impact statement again going through a 60-day comment period and then were looking for a record of decision from our federal partners."