Looking back at 2018 one safety message at time
Looking back at 2018 one safety message at time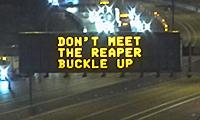 By Caroline Carpenter / ADOT Communications
As 2019 dawns, we're taking a minute to look back on safety messages we posted in 2018, along with your reactions.
Thank you! A sign that is long over due. Stay to right except to pass..

— MX Girls (@MXTipsandTricks) November 21, 2018
While all of ADOT's message boards focus on safety, we often throw in few pop culture references. There was a nod to the Swifties when pop star Taylor Swift was in town.
Taylor Swift is performing tonight in Phx and @ArizonaDOT did it again! pic.twitter.com/9WhafFjqfL

— Stella Inger KGUN9 (@StellaInger) May 9, 2018
And, we didn't leave out country fans when Tim McGraw and Shania Twain performed.
We want some more of it
Drive safely on your way to see @TheTimMcGraw and @FaithHill #soul2soul concert today in Phoenix. pic.twitter.com/MToS7olZI0

— Arizona DOT (@ArizonaDOT) July 20, 2018
We hope you enjoyed the message boards this past year and remember to focus on safe driving.
With a new year, we're sure to have more safety messages. Until then, enjoy the video below with a few of ADOT's safety signs that were displayed on state highways in 2018.