Loop 101 project scheduled to begin this weekend
Loop 101 project scheduled to begin this weekend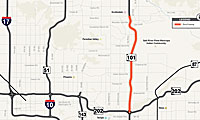 A major project that will add new lanes in both directions of Loop 101 between Shea Boulevard and Loop 202 (Red Mountain Freeway) in the Scottsdale and Salt River Pima-Maricopa Indian Community area is scheduled to begin this weekend (August 9-10).
The $72.7 million project will widen 11 miles of Loop 101 south of Shea Boulevard with the addition of one new lane in each direction. A second new northbound Loop 101 lane also will be constructed between the Loop 202 interchange and McDowell Road.
The improvement project is scheduled for completion by late 2016.
Other features of the Loop 101 Improvement Project include:
The addition of new merge lanes between the interchanges at Indian Bend Road and McDonald Drive.
New lighting and signs.
New landscaping, including the use of hundreds of salvaged cacti and other plants that will be kept in temporary nurseries.
Wider freeway bridges and realigned on- and off-ramps.
A new layer of smooth rubberized asphalt added across all lanes of the wider freeway.
Initial work requiring Loop 101 closures or lane restrictions will focus on the removal of some older sign structures, the placement of temporary barrier walls for crews to work behind and the relocation of fiber optic cables and other components that will be used for improvements to the freeway management system of traffic cameras, ramp meters, traffic-flow sensors and overhead message boards.
Drivers are urged to plan ahead for restrictions, including overnight and weekend closures, as well as a lower speed limit of 55 mph within the work zone.
The Loop 101 Improvement Project between Shea Boulevard and Loop 202 is funded through the Maricopa Association of Governments' Regional Transportation Plan approved by Maricopa County voters in 2004.
Stay tuned … we'll blog more about this project as work progresses.