Many more drivers benefited from ADOT Alerts App during the big storm
Many more drivers benefited from ADOT Alerts App during the big storm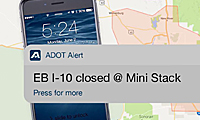 By David Rookhuyzen / ADOT Communications
We launched our ADOT Alerts App in 2017 to keep drivers as informed as possible about highway closures on their routes so they can plan accordingly. Thousands more Arizona drivers showed they valued that technology last week as a heavy winter storm dumped snow and rain across the state.
Last week, 6,000 people downloaded the free app, which is available for iOS and Android at ADOTAlerts.com. For the entire month of February, 8,000 people came on board, compared to average increases of 2,500 users per month in 2018.
During the storm, we constantly updated an alert to reflect which highways were closed due to winter weather and which had reopened after our crews cleared snow and ice.
Using geofences, the ADOT Alerts App sends notifications to smartphones when a nearby state highway has an unplanned closure due to an event such as a crash and or heavy weather, when a construction project will close a major freeway for an extended period and when a major route such as Interstate 17 north of the Valley is seeing extreme delays.
The app does not require a user to register or log in to use. You can learn more about it on our website.