Monarch butterflies take flight in SR 189 construction
Monarch butterflies take flight in SR 189 construction
By Lori Baker / ADOT Communications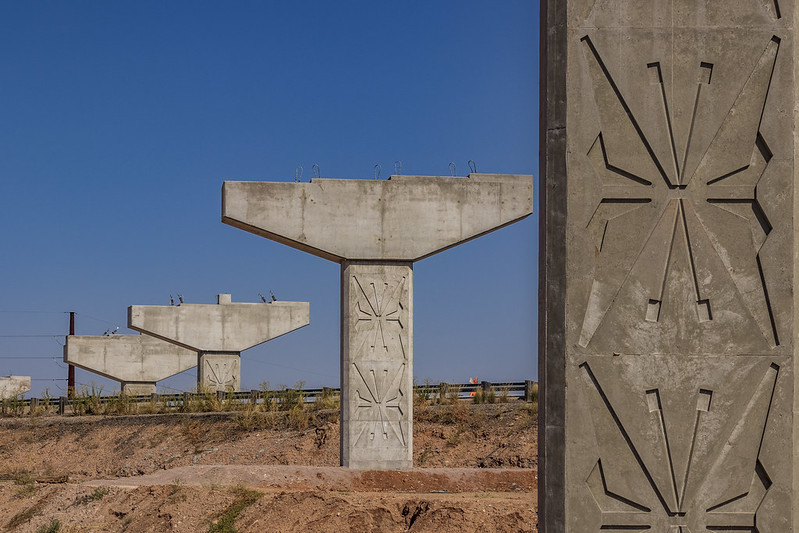 As State Route 189 construction progresses from the international border of Mexico to Grand Avenue in Nogales, monarch butterflies are emerging throughout the new highway structures. 
Abstract butterflies are cascading down the concrete piers being installed for the new bridge and flyover ramps connecting SR 189 and Interstate 19.
"This design shows how these butterflies cluster together on tree trunks," said Landscape Architectural Designer Joseph R. Salazar, who is the project aesthetic manager. Three-dimensional metal butterflies will be attached as accent icons on the concrete retaining walls. Abstract butterfly designs also will be incorporated in landform graphics. 
Why were butterflies chosen as the project's aesthetic theme? 
ADOT roadside development team members studied the cultural, historical and biological contexts in the Nogales Port of Entry area. They learned that SR 189 is also known as Mariposa (Spanish for butterfly) Road. In addition, the North American monarch butterflies are significant in this region — migrating through Arizona between Mexico and Canada in the fall and spring. 
"I decided to incorporate the monarch butterfly because it represents movement and transportation, which ties in with the busy Nogales Port of Entry that has a lot of trade going back and forth," Salazar said. 
The monarch butterflies' bold colors and shapes echo the vibrant colors, cultural and natural beauty of the area. Monarch butterflies are under consideration by the U.S. Fish and Wildlife Service for inclusion on the Endangered Species List.
The SR 189 landscaping will benefit monarch butterflies because milkweed shrubs — the primary food source for monarch caterpillars — will be part of the vegetation. Roadside Resources Specialist Kris Gade is part of a group that developed a nationwide candidate conservation agreement for monarch butterflies to conserve and enhance monarch butterfly habitat, including providing vegetation they need to survive, such as milkweed. 
"ADOT supported development of the agreement and is working on identifying monarch butterfly habitat areas in rights of way around the state," she added. 
View more photos of the butterfly design in the SR 189 highway on the embedded Flickr album. Read more about the highway improvements and see a video with a butterfly's view of Mariposa Road.