A monumental volunteer effort on behalf of one state highway
A monumental volunteer effort on behalf of one state highway
By Mary Currie / ADOT Adopt a Highway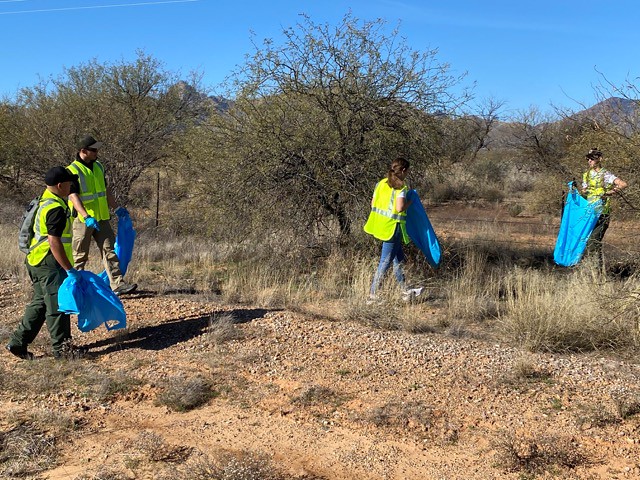 A few weeks ago, we reported on ways to serve on Martin Luther King Jr. Day of Service and beyond. We mentioned an Adopt a Highway volunteer group in southern Arizona planning a one-day pickup coined "All the Way to the Border."
Melissa Owen has been volunteering and organizing litter cleanups for more than 20 years, with more than a decade of commitment to ADOT's Adopt a Highway volunteer program.
Owen's dream was someday to have all 45 miles running through Altar Valley on State Route 286 between Robles Junction/Three Points and Sasabe at the Mexico border be litter-free. That's why she started the "All the Way to the Border" cleanup event in 2015. But she never expected that 2020 would be the year volunteer participation nearly doubled enough to make that dream come true.
But it happened.
"It was a big day – we went all the way to the border in 2020!" Owen reported. At the end of the day, 250 bags of trash were collected by 121 volunteers along SR 286, which runs through a good portion of the scenic Buenos Aires National Wildlife Refuge. That compares with the 70 volunteers who collected 210 bags of trash along 31 miles of highway during last year's event.
For those who couldn't make it, you can scroll through this slideshow of the volunteers in action.
Owen's commitment takes time and persistence. She gets the word out by planning several months ahead and sending invitations, and then following up with reminders every few weeks. Just as in past events, friends and travelers from outside Arizona, as far away as Texas and Michigan, showed up to lend a hand. Even a bit of fun was added to volunteer duties during the morning safety briefing. Owen tasked participants to send in photo entries for a "weirdest piece of trash" contest.
The winners this year were a tie between the majority of a toilet and this faux-leather jacket so coated in mud that it weighed in at nearly 50 pounds. Honorable mention as the most beautiful piece of trash goes to a collection of animal bones found during the cleanup.  
Some of this year's volunteers and supporters included Trico Electric Cooperative, Tucson Recycling and Waste Service, Buenos Aires National Wildlife Refuge, the Robles Ranch Community Center, Park Smith Law, Altar Valley Conservation Alliance, Altar Valley Middle School and the Tucson Station Border Patrol Explorers.
Owen's dream started out small by first adopting mile 5 near Sasabe, Arizona. And, by the way, mile 6 is currently available.  If you're interested in taking that first step and adopting your own, check out the Adopt a Highway Volunteer program at azdot.gov/adoptahighway or contact me at [email protected]