More ADOT highlights from 2012
More ADOT highlights from 2012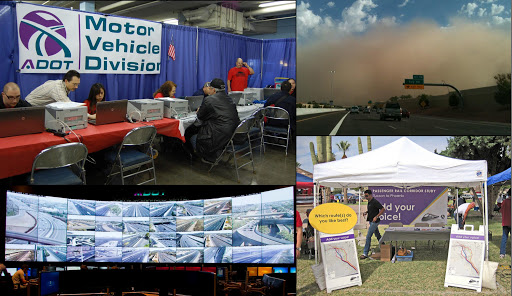 We've spent this week looking back on ADOT's major projects of 2012, but it's important to recall the transportation-related achievements that didn't happen out on the road.
Much was accomplished last year through planning, which is what we're focusing on today.
This summer ADOT, in partnership with the Nevada Department of Transportation, launched a two-year study of I-11 and the Intermountain West Corridor. The study will determine if it is feasible to build a new interstate that would connect Phoenix and Las Vegas and potentially extend north to Canada and south to Mexico. I-11 received federal designation under the current surface transportation bill, Moving Ahead for Progress in the 21st Century Act, also known as MAP-21. As part of this federal designation, US 93 is defined as a high-priority corridor for the future I-11.
Passenger Rail Corridor Study
During the past year, ADOT identified six potential rail alternatives and one express bus alternative that could link Phoenix and Tucson and relieve expected congestion along I-10 in the future. This fall, ADOT held its second public comment period to gather input from community members about what they think about passenger rail. Nearly 3,000 people filled out a survey at community events or online. ADOT expects to narrow the list to two or three alternatives in the spring of 2013. A final alternative will likely be announced towards the end of 2013.
Of course, no 2012 wrap-up would be complete without a look at the Motor Vehicle Division and Enforcement and Compliance Division …
Motor Vehicle Division
From a new process designed to increase security for hundreds of thousands of driver license customers to outreach for the homeless population, 2012 marked another busy year for the Motor Vehicle Division. While service to customers receives the most attention, revenue collection is a vital part of MVD responsibilities. This year MVD safely and efficiently accounted for nearly $1 billion in state revenue while conducting in excess of 16 million transactions in person, through the mail and online, an increase of 3 percent from one year ago. In addition to serving the general public, MVD continued to work closely with and improve services for its industry and government partners statewide, including motor carriers, motor vehicle dealers, law enforcement agencies and the courts.
Enforcement and Compliance Division
As a means of improving highway safety throughout Arizona, the Enforcement and Compliance Division has accomplished a number of milestones during 2012. Officers completed 14,137 commercial vehicle inspections that contributed to driver and vehicle safety. Enforcement and Compliance officers also weighed 7,926,224 commercial vehicles to ensure that vehicle weights are at the legal level, reducing deterioration of Arizona's highway infrastructure. While highway safety is of utmost importance to the Enforcement and Compliance Division officers and customer service representatives, the division also generated $16,324,134 in revenue from the sale of 461,587 permits to the commercial vehicle industry. The division has also worked closely with other state, local and federal law-enforcement agencies to ensure that a broad highway safety program is implemented to secure the safety of the motoring public when traveling around and near commercial vehicles. In addition to enforcement activities, ADOT's Executive Hearing Office resolved 18,101 cases, a 25 percent increase from last year.
But, wait … there's more!
There are just a few more items we want to remember before we move on to 2013. These don't necessarily fit into any category, but they're significant nonetheless…
Pull Aside, Stay Alive
Prior to the start monsoon season, ADOT, in cooperation with the Governor's Office of Highway Safety, the Arizona Department of Public Safety and the National Weather Service, launched a public awareness campaign urging drivers to Pull Aside Stay Alive when they encounter a dust storm. As part of the campaign, ADOT used social media to engage the public and asked people to show off their creativity by submitting short poems about the dangers of dust storms and more than 1,500 haikus were submitted in one week.
Traffic Operations Center Upgrades
In September, ADOT unveiled its new Traffic Operations Center, which underwent a $2.1 million facelift. This high-tech control center, based in Phoenix, underwent a comprehensive refurbishment, including the addition of 40 reconfigurable 55-inch flat-panel displays, providing state-of-the art tools for the 24/7 facility. The upgrades to the center's communications system allow ADOT staff to keep an eye on traffic conditions around the state and provide options for motorists to avoid congestion.
OK … it was nice to look back, but starting next week we'll be back to blogging about ADOT's present and future. Thanks for following along!