Move Over AZ: Every Vehicle, Every Time
Move Over AZ: Every Vehicle, Every Time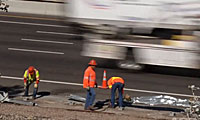 There's something really simple you can do to help prevent a serious danger out on our highways and roads – want to know what it is?
Move Over (see, we told you it'd be simple).
All we're asking is that drivers move over one lane to create a safe margin of space when passing by any vehicle on the side of the road with lights flashing – that includes regular passenger vehicles, tow trucks, highway maintenance vehicles, ambulances and law enforcement vehicles. If moving over isn't possible or safe, we ask that you slow down and drive by with caution.
We want you to do this not only because it's the law, but because it could help save a life…
Across the nation, a number people killed each year after being struck by a vehicle while on the side of a roadway. These types of crashes kill one tow truck driver every six days; 23 highway workers and one law enforcement officer every month and five firefighters every year.
Tow truck drivers, highway workers, paramedics and law enforcement officers are most at risk, but any driver who pulls over for whatever reason – flat tire, no gas, engine trouble, etc. – faces this danger.
Move Over Law
Commonly known as Arizona's "Move Over" law, ARS 28-775E-1-2 was established in 2005 to reduce injuries and fatalities to law enforcement officers and emergency responders assisting the public. It was enhanced in July 2011 to include ALL vehicles with lights flashing, such as tow trucks, ADOT maintenance vehicles and private vehicles.
Still, those who regularly work on or near our highways say many drivers don't seem to know about the law.
"Many drivers seemingly have no concept of what they are supposed to do when they drive by a vehicle that is pulled over with flashing lights," says Tom Donithan, someone with more than 25 years experience with ADOT maintenance. "Increasing awareness about this law for even 10 percent of the drivers on our highways will have a huge, positive impact."
Move Over Mondays
In order to raise understanding of the law, Arizona Department of Public Safety officers will be enhancing their enforcement every Monday in March starting today. That means on March 11, 18 and 25, DPS officers will be extra watchful for violations of the Move Over law.
Drivers who are pulled over could be cited for the moving violation that comes with a $150+ fine depending on your jurisdiction.
But, like we said above, we don't want you to move over just because it's the law or because you'll be fined (although that should be great motivation to comply). We want all drivers to be aware that the Move Over law is one that aims to save lives, including yours!
So, remember…
MOVE Over when you see any vehicle with flashing lights on the side of any road or highway.
SLOW DOWN AND USE CAUTION if you cannot move over.
Not obeying the law is a moving violation punishable by fines; worse, you or someone else could be injured or killed.
For more information, visit moveoverAZ.org.