Moving oversize loads requires big effort
Moving oversize loads requires big effort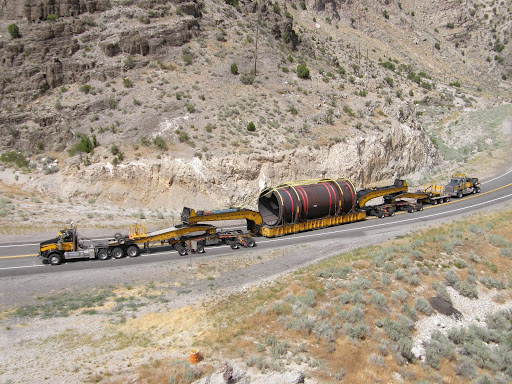 When it comes to describing some hauls, the term "oversize load" is a major understatement.
We're talking about the enormous "super-loads" driven through the state each day. Maybe you've seen them on the freeways … they're the trucks lugging gigantic transformers, generators, turbines, and even houseboats.
Moving these mammoth objects requires acts almost as big the loads themselves. Coordinating these moves takes massive amounts of work and cooperation, and because they travel on state roads, highways and freeways, ADOT is involved from the very start of the trek.
Before they can hit the road, the hauler for each oversize/overweight load has to apply for a permit to drive on Arizona highways. These "super-loads" often fall into the Class C category, defined by loads that are either in excess of 250,000 pounds, measure more than 120 feet in length, 16 feet in height or 14 feet in width.
The permit applications ask the hauler to specify travel routes along with the more technical stuff – like how many trailer axles will be used to spread the weight.
All this is thoroughly reviewed by ADOT's Merlinda Chavez and Chris Pippin. All Class C permit applications in Arizona go through them. (They've got quite a workload – in June alone, they issued 538 Class C permits!) They analyze all the specs and make sure a load can safely make it along its route. They also communicate with various ADOT district engineers to make sure current road conditions and construction projects are accounted for in the final route.
"There is a lot that goes into oversize loads," Pippin said. "But, the No. 1 thing this department is all about is safety."
If the proposed route involves moving structures like traffic signals or power lines, those details must be worked out before a permit is issued. If the route involves a bridge, ADOT's bridge engineers make sure the bridge can handle the load and that the infrastructure won't be damaged.
Once a permit is issued it comes with a Class C Approval, which is basically an instruction sheet that includes guidelines the hauler must adhere to. These instructions list things like hours the load can travel (the majority of Class C loads must travel during daylight hours) and whether or not law enforcement escorts will be necessary.
The approval also lists the other municipalities that the load will be traveling through. It is the hauler's responsibility to coordinate with these cities, towns and counties. ADOT only issues permits for the state's highway system.
Many Arizonans are getting the chance to see the end result of this permitting process. Right now a giant 285-ton anode (it's used in the electrical process for refining copper) is making its way from Nevada all the way to Miami, Ariz. It's a notable move because this is the largest oversized load to cross the new Hoover Dam Bypass Bridge .
Pippin and Chavez both agree that coordination between their office, the hauler, district engineers, traffic engineers, maintenance engineers, the Arizona Department of Public Safety and ADOT's Enforcement and Compliance Department is what makes these oversize moves possible.
"You can move just about anything on the state highways, as long as you've got a permit," Pippin said.