Navajo Route 20 is closed for construction
Navajo Route 20 is closed for construction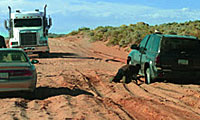 Yes, paving on N20 has begun, but drivers shouldn't plan on using the route as a detour until construction is completed later this summer.
In fact, right now (unless you live in the area), you are NOT permitted to use the road because of the conditions … several vehicles have become stuck in the sand and there is limited cell phone coverage in the area.
More about the project
Crews started on the N20 paving project late last month. Since that time, work has focused on clearing debris and brush off the roadway, grading and installing water lines in preparation for paving work.
Once the paving project is finished, travel time for motorists heading to and from Page and the Lake Powell area will be significantly reduced (we're just as eager for this as you are!).
Currently, the primary detour is to take US 160 to SR 98, which is about 45 miles longer than the direct route. The new detour route (N20) will shave half the distance and time to get to Page.