New 303/Greenway construction bypass built in 43 hours
New 303/Greenway construction bypass built in 43 hours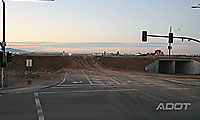 Accommodating existing traffic is a key priority when ADOT builds a freeway …
Depending on the project, that can mean working out a construction schedule that takes rush hours into account or hiring extra crews to flag and direct traffic through the site.
But, on the Loop 303 project in the West Valley drivers will notice a new construction bypass that (amazingly) was built in around 43 hours this past weekend. The bypass will be in place for the next 10 months and not only will it allow for a more efficient way to haul dirt, but it's also going to help drivers avoid the construction zone!
Building the bypass
Crews shut down the intersection at Greenway Road and the Loop 303 at 10 p.m. Friday, Dec. 9.
Roughly 8,000 cubic yards of dirt was hauled in from other parts of the project site to build up the road. That dirt was placed Friday night in eight-inch layers and was compacted until it was the right height for the bypass (see video above!). After that, the road was paved and striped on Saturday.
Prior to the weekend work, crews had built everything they could up until the point where the bypass would cross "live" traffic and require the closure. That required even more dirt – about 40,000 cubic yards.
Crews not only had to build the bypass, but also installed temporary concrete barriers, fencing, sidewalk and a traffic signal.
The traffic signal went in Saturday morning after the power was shut off to the "old" signal. The signal pole's electric meter and pedestal were set to the new location and power was turned on. ADOT wired the signal Sunday morning and installed a common video detection device that will help with signal timing.
After some finishing touches, the bypass was ready and opened to traffic by about 5:15 Sunday evening – 12 hours ahead of schedule!