A new look at Virgin River Bridge No. 6
A new look at Virgin River Bridge No. 6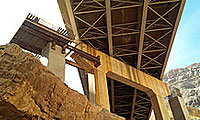 Earlier this month, when we gave you a quick update on the Virgin River Bridge No. 6 rehabilitation project, we promised a video to showcase all the progress being made...
Today, as you can see above, we're keeping our word!
Driving through during construction
If you've driven on I-15 through the project area, tucked away in the far northwestern corner of the state, you know it is a busy corridor, something that ADOT takes into careful consideration when working a project like this.
"We can't just tear the bridge down and expect interstate traffic to take local roads," says ADOT Senior Resident Engineer Steve Monroe in the video. "If you take out any part of that section of Interstate 15, it's a really long way around."
Monroe continues by explaining what crews are working on at the moment…
"Right now, they're working on putting in the support columns," he says. "Once they have that done, both north- and southbound will be sharing one half of the bridge – one lane in each direction. Then the half that's open will get removed. Then they'll replace that with a wider section that goes onto the new support columns that we just built. Then, we'll put traffic all on the new side of the bridge and go demo out the old half of the bridge."
More about the project
Work on this extensive rehabilitation project started in March and is expected to take up to two years to complete. Located about 20 miles south of St. George, Utah, the $27 million project includes the replacement of the bridge's superstructure (girders, deck and railings), as well as widening the roadway through the narrow passage of the scenic Virgin River Gorge.
One more thing…
When you watch the video, you might notice that Resident Engineer Adam Carreon says, "Bridge 6 is functionally obsolete and structurally deficient and needs to be replaced to adequately handle current and future traffic loads."
Don't let those terms take you aback. As we explain in this blog post, these classifications do not mean that a bridge is unsafe. Structurally deficient can mean that a component of the bridge needs rehabilitation. Functionally obsolete is a term often used when a bridge has sub-standard geometric features, such as narrow lanes or shoulders or inadequate clearance.
You can also revisit some of our previous posts and check out our I-15 photos on Flickr.