New Loop 101 HOV-lane ramps now open at Maryland Ave. in Glendale
New Loop 101 HOV-lane ramps now open at Maryland Ave. in Glendale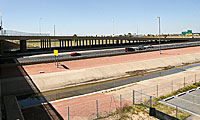 The wait is over and now the new Loop 101 HOV-lane ramps are open at Maryland Avenue in Glendale...
Not that it was a particularly long wait – work only started about five months ago. This accelerated project was built using the Design-Build method of contracting, which can yield big results in a short amount of time by pairing the design team with the construction team from start to finish.
"We worked very closely with the city of Glendale and the Maricopa Association of Governments in making sure that the funding was lined up," explains ADOT Public Information Officer Doug Nintzel in the video above. "Then we made sure we were on a fast track with construction because the goal was we were going to complete these ramps in time for the 2014 Cardinals season and certainly in time for Super Bowl 2015".
What drivers will now experience
The new ramps were designed to improve access in and out of the Westgate Entertainment District and the area's sports facilities (that includes the University of Phoenix Stadium and Jobing.com Arena).
All four ramps connect to the center of the Maryland Avenue bridge via the Loop 101 HOV lanes.
HOV lane refresher
Like all HOV lanes, the new ramps are only open to vehicles carrying two or more people, as well as other approved vehicles during weekday rush hour periods of 6 a.m. to 9 a.m. and 3 p.m. to 7 p.m. The ramps (and all HOV lanes) are open to all vehicles at other times, including weekends.