New project milestone on I-15 Virgin River Bridge No. 6
New project milestone on I-15 Virgin River Bridge No. 6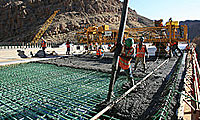 About a month ago, we shared some cool nighttime photos taken at the I-15 Virgin River Bridge No. 6 rehabilitation site that show off a major project milestone. Today, we've got an equally cool video that goes into even more detail on the concrete deck pour that had crews working through the night.
If you've been following this project along with us, you know that the bridge is in the far northwestern corner of Arizona and work to rehabilitate the structure began in March 2014. This significant effort includes the replacement of the bridge's superstructure (girders, deck and railings), as well as widening the roadway through the narrow passage of the gorge.
The project is expected to be completed in 2016, but right now, the northbound side of the bridge is closed for the reconstruction project – both directions of traffic are currently traveling on southbound side, which will also be replaced once the new, wider northbound lanes are completed this summer.
OK, back to the project milestone we were talking about…
As you can see in the video above, that recent concrete deck pour not only required crews to work overnight, but also represents a pretty significant point in the project.
"The deck pour was a little over a 12-hour shift with trucks running constantly all night. There was never a single break in the work the entire night," says Flagstaff District Resident Engineer Adam Carreon in the video. "Everything went really smooth and we're real happy with what the finished product looks like. Pouring the concrete deck was a major milestone for us. It shows that we're about half way through the project at this point."
You can learn more about the project by revisiting these previous posts. You can also see more photos of the project's progress on our Flickr page.