New sponsored 511 signs hitting the road
New sponsored 511 signs hitting the road
By Laurie Merrill / ADOT Communications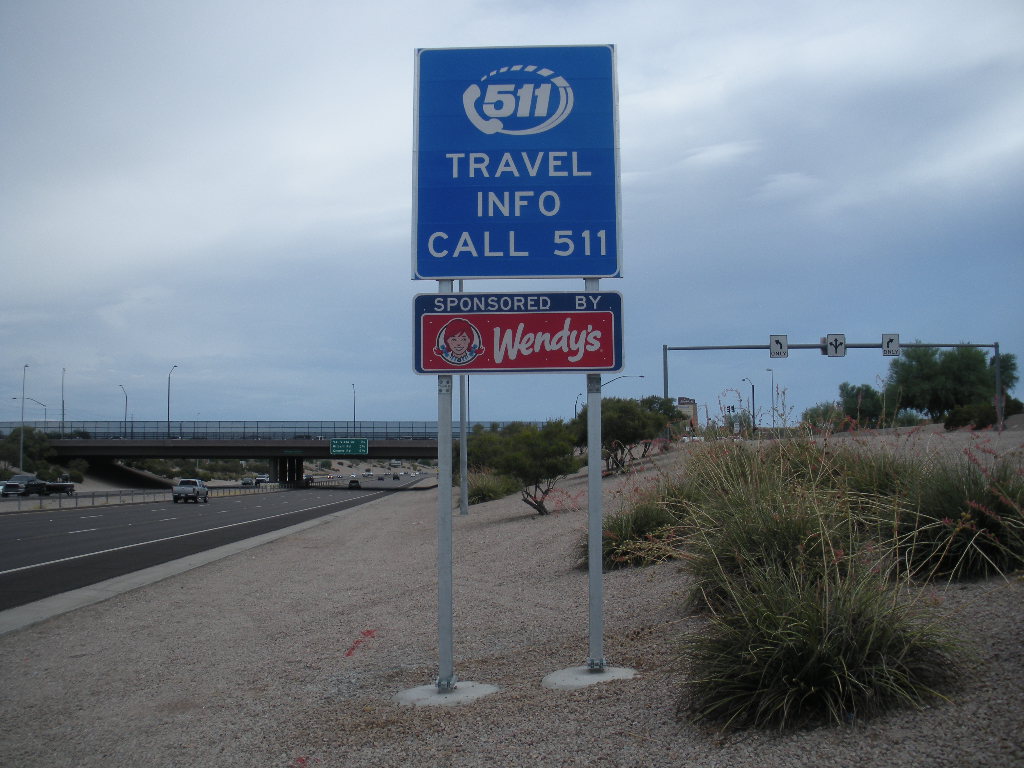 Something new, blue and helpful-to-you is popping up along Arizona highways, and it's just the beginning.
The Arizona Department of Transportation has installed the first four 511 business-sponsored signs as part its recently launched 511 Logo Signs initiative.
These signs bearing both 511 travel information and sponsor names are at Loop 202 Red Mountain Freeway west of Priest Drive, Loop 202 Santan Freeway north of Williams Field Road, US 60 east of Stapley Road and State Route 64 in Tusayan.
As we shared in a post earlier this year, businesses can sponsor signs reminding motorists to call 511 for travel information. Horizontal, 60-by-18 inch placards listing the sponsor names are under the familiar blue 511 signs. 

The 511 Logo Sign Program was introduced in May with sign locations in the greater Phoenix and Tucson areas. Additional sign locations have just been added on other highways in Arizona, including interstates 8, 15, 19 and 40. 
Proceeds go to the Arizona State Highway Fund, which pays for highway maintenance and repairs around Arizona.

In addition to restaurants, eligible business categories include gas, lodging, camping, attractions and 24-hour pharmacies. Plans to open the 511 logo program to sponsors in motor vehicle-related goods or services categories are moving forward. 

Businesses are invited to contact program representatives at 855.712.4500 and learn more at 511LogoSigns.az.gov. To see ADOT's newly redesigned Arizona Traveler Information website, please visit az511.gov.