The old bridge at Hell Canyon goes out with a bang (see the video)
The old bridge at Hell Canyon goes out with a bang (see the video)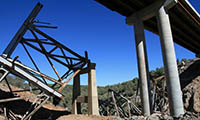 By Ryan Harding / ADOT Communications
Last week, what remained of the old Hell Canyon Bridge on State Route 89 went out with a bang.
The 62-year-old bridge, which no longer met federal and state standards for truck traffic, came down in a blast of explosives that caused the structure to fall in on itself.
ADOT opened a new, $14.4 million bridge in June. It has wider lanes and shoulders that allow it to better accommodate truck traffic and oversized loads.
The new Hell Canyon Bridge, located about 18 miles north of Chino Valley between Prescott and Ash Fork, carries about 3,400 vehicles each day.
End your week with a bang by checking out our video of the demolition.