'One Less Spark' campaign shows how drivers can help prevent wildfires
'One Less Spark' campaign shows how drivers can help prevent wildfires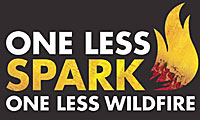 Wildfire season has (unfortunately) already arrived and while we can't control the winds, heat or dry conditions that impact much of our state, we can all take some simple steps to stop fires from even starting…
One Less Spark, One Less Wildfire
ADOT is participating in an interagency campaign that focuses on those steps and communicates the role that drivers and homeowners play in helping to prevent wildfires.
The "One Less Spark, One Less Wildfire" awareness campaign was started by the U.S. Forest Service and other land management agencies in California in 2012.
It is now expanding to the southwest region and, as you can see in the video above, ADOT and several other local agencies recently joined together for an event aimed at sharing the message.
Everyone has the responsibility to prevent human-caused wildfires. We encourage you to learn more by visiting wildlandfire.az.gov and by obeying these tips:
Do not park in tall grass as the heat from parts under your vehicle can start a fire.
Make sure nothing is hanging from underneath your vehicle and dragging on the asphalt.
Dragging chains from towing can cause sparks. Never substitute parts when towing.
Check tire pressure before you travel. Exposed wheel rims can cause sparks on the asphalt.