Overnight emergency repairs follow I-10 tanker collision
Overnight emergency repairs follow I-10 tanker collision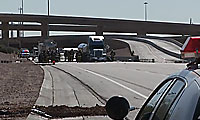 I-10 was closed most of the day and night last Wednesday after two tanker trucks collided near Chandler Boulevard south of downtown Phoenix.
For hours, many drivers could see the resulting column of black smoke. Even more people saw footage and photos of the collision's aftermath on the news and online.
What most didn't see was the effort it took to reopen the freeway less than 24 hours after the fatal crash, which not only snarled traffic during the morning rush hour, but also severely damaged the road.
Timeline
ADOT's ALERT Team arrived on the scene shortly after the 8 a.m. crash. The crew worked with other agencies to close a portion of I-10, divert traffic and create a safe location for all the emergency responders.
Even once the fire was out, work to clear the wreckage couldn't begin for several hours because of the extremely high level of fuel vapors in the air. Once the vapors dissipated (which, with very little wind, took close to four hours), two additional tankers were brought in to remove the fuel that remained in the burned tanker.
Once the Fire Department cleared the scene, the wreckage was cleared and work could begin on repairing the road's surface.
It was determined that repaving the badly damaged area immediately was the best way to maintain a safe, drivable surface while avoiding a future closure of the heavily traveled Interstate. Late Wednesday afternoon, ADOT worked to line up the contractors and resources needed to accomplish the repair work.
"We didn't want to leave bad pavement for tomorrow's morning traffic to drive on," says ALERT Commander Tom Donithan.
By about 8:00 Wednesday evening, the section of road was milled with a machine that basically pulverizes the damaged asphalt into an "almost powder," according to Donithan in the video above.
Once the road was milled and the old asphalt was swept away, a new layer of asphalt was put down.
Not long after that, at about 2:30 a.m., striping trucks were able to re-stripe the road and westbound I-10 between Loop 202 and Chandler Boulevard reopened to traffic at approximately 4:30 a.m.