Oversize load safely crosses bridge, makes it to destination on time
Oversize load safely crosses bridge, makes it to destination on time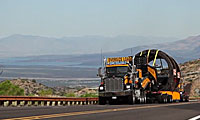 Now that you know a little about the ADOT permitting process involved with moving oversize loads, take a look at the latest heavy haul to cross Arizona's highways.
The video above shows just a portion of the journey this 285-ton load took beginning the first week of August.
The giant anode, which is used in the electrical process for refining copper, traveled 380 miles from its start in Salt Lake City all the way to the mining town of Miami, east of Phoenix. At 225-feet long, 20-feet wide and about 19-feet high, this oversize load was the largest to cross the new Hoover Dam Bypass Bridge ... so far!
The video shows the anode as it cautiously makes its way along SR 188 across the Theodore Roosevelt Lake Bridge. Just a few hours later and after a lot of coordination, careful planning and 14 days of slow travel (the top speed uphill was just 15 mph), the heavy load made it to its destination on schedule to the Freeport-McMohan mine in Miami!