Partnering 101
Partnering 101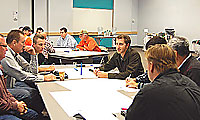 When ADOT builds a freeway, there is an essential step that surprisingly requires absolutely no construction or even heavy lifting.
We're talking about partnering – the ADOT and construction industry process that allows everyone on the project to get together, set goals and talk about the work ahead.
Partnering not only sets a good course, but as a project progresses, the process leads the way through any conflict and helps the team evaluate and measure progress.
But wait … doesn't this all sound a little familiar?
Maybe that's because partnering isn't a new topic for this blog. To get a general overview of how ADOT utilizes partnering, check out our blog post from May. We also wrote about public partnerships that month.
Today we want to focus specifically on how construction project partnerships get off the ground and how they can set the tone for the many working relationships a big freeway project requires.
ADOT builds projects in partnership with private industry, namely construction contractors, suppliers, engineers and associated industries. In fact, 80 cents of every dollar ADOT spends goes to the private sector. That creates jobs and benefits Arizona's economy.
Partnering workshops
Partnering is so essential to delivering projects that it starts before a project even begins…
Near the start of a construction project, a partnering workshop is scheduled and everyone involved with the project gets an invite. That can include city officials, representatives from various utility companies, designers, contractors and, of course, ADOT.
The workshops generally start off with introductions and a discussion of each individual's responsibility followed by a lesson on partnering and an overview of the project by engineers and contractors.
From there, they work together to develop a team charter (kind of like a mission statement) and establish project goals.
Like any relationship, though, each partnership is unique and workshops need to be designed accordingly. Some partners may want more time for team-building activities and to cover the core partnering components, while others may want less time spent on introductions and partnering basics and more time on issue identification.
Issue resolution
Issues are bound to come up throughout the duration of any project. They can range in size and scope, but the bottom line is they need to be resolved quickly and painlessly so as not to slow down the project.
Partnering sets in place a plan that can help resolve issues using communication techniques and shared working agreements.
The issue resolution process is established during the initial workshop and includes methods for identifying and resolving issues, action planning, and setting follow-up agreements.
The process also includes the provision for an Issue Escalation Ladder, or chain of command for both ADOT and the contractor to escalate issues that can't be resolved in the field. The Issue Escalation Ladder is established during the initial workshop and basically determines what constitutes a disagreement and at what point the team members will "agree to disagree" and seek formal issue resolution.
Successful issue resolutions not only meet their primary objective (to resolve potentially disruptive issues) but they also provide teams the opportunity to discuss current project issues, make changes to improve project delivery and assess where they stand in relation to the original project goals and charter.
Closeout Workshop
Partnering doesn't end when the construction wraps up…
At the conclusion of a project, team members are invited to attend a Closeout Workshop. These aren't always formally facilitated, but they give the project team an opportunity to celebrate the completion of the project while assessing what worked well (and, possibly, not so well) during the course of the partnering.
There's actually one more step in the process called the Partnering Evaluation Program, but we'll save more on that for a future blog post!
Why it matters
Partnering not only helps create a more cooperative working environment, it also results in projects that are more consistently delivered on time and within budget! Ultimately, that benefits you - the people who pay for and use transportation.
Visit the Office of Partnering website for even more information.