For the person who has everything, how about a specialty plate?
For the person who has everything, how about a specialty plate?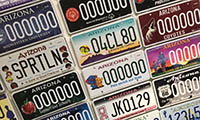 By Doug Nick / ADOT Communications
It's the most wonderful time of the year, and we can't help but be reminded about some of the great holiday stories that get told and re-told over some eggnog and cookies by the fire.
Who can forget the classic movie " A Christmas Story," where little Ralphie has his heart set on getting a fabulous specialty license plate from the Motor Vehicle Division?
Yes, a small tear comes to the eye just remembering the tender emotions that well up at such a request. Or maybe we had dust in our eye. Yeah, that was it … dust. Really.
Well, at least that's how we remember it; Ralphie spending 90 minutes we'll never get back hoping and praying for a plate for the Old Man's car.
Now before you check Wikipedia to dispute our recollection, hear us out on this because getting a specialty plate as a gift is actually a terrific idea since they look great and proceeds to go to worthy causes.
Ordering online is the best way. Just go to ServiceArizona.com, where you'll see more than 40 specialized plate styles. Themes include honoring veterans, organ donation awareness, environmental causes, tribal programs, university scholarships and support of charitable organizations for professional sports franchises, among many others.
Anyone can buy a plate for another person. All you need are the last two digits of the vehicle identification number, the customer name and address and the number of the plate being replaced. The new plate will come in the mail.
It's a deal too. Specialty plates typically cost $25 with an annual $25 renewal fee. Of that, $17 is directed each year to the charitable cause or service the plate represents. Personalizing a specialty plate does cost a little more.
By now, Ralphie's grown up and he probably has all the specialty plates he wants. We hope you want one too because last year these plates raised almost $10 million for Arizona worthy causes, and helping others is what the holidays are all about.