Phoenix, Tucson and statewide construction projects to continue in 2014
Phoenix, Tucson and statewide construction projects to continue in 2014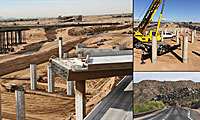 We have a fairly lengthy blog post for you today…
Though it might take a while to read it, you'll be glad that you did. That's because it includes details on many of the projects ADOT has planned across the state in 2014.
This year, ADOT will move forward with some long-anticipated projects to widen existing highways, replace outdated bridges and build new modern traffic interchanges.
All of the projects will be funded with federal and state highway funds, which are collected through gas taxes, vehicle license fees and auto registration fees. In the Phoenix and Tucson metropolitan areas, voters have approved supplemental tax revenue that enables more transportation projects to move forward in their respective regions.
Phoenix Area Projects for 2014
The New Year will see continued progress on the construction of the multilevel freeway-to-freeway interchange that will link Interstate 10 with Loop 303 in Goodyear. Drivers in the area have been able to watch crews build sections of elevated ramps that will carry traffic to and from Loop 303 north of I-10 by fall 2014. The $145 million I-10/Loop 303 interchange project also will slightly shift the alignment of I-10 to the north to allow the future connections between the two freeways. Other major projects include adding another lane on the Loop 101 (Pima Freeway) in Scottsdale and a new connection for drivers in southeast Mesa — State Route 24 (Gateway Freeway).
Loop 101 (Pima Freeway) in the Scottsdale area
ADOT is due to start work by fall on a project to add one new lane in each direction along Loop 101 between Shea Boulevard and the Loop 202 (Red Mountain Freeway). The new lanes will help improve traffic flow along that busy stretch of the Pima Freeway. ADOT also will add a new layer of smooth rubberized asphalt along the project's entire 10-mile stretch south of Shea to the Red Mountain Freeway.
Loop 303 between Interstate 10 and Grand Avenue (US 60)
The ongoing series of projects to modernize the older two-lane Loop 303 into a six-lane freeway south of Grand Avenue will be completed during 2014. Drivers already are using a dozen miles of new lanes opened by ADOT in the area stretching from Thomas Road north to near Grand Avenue. Improvements this year will concentrate on finishing the project between Camelback Road and Glendale Avenue by summer and completing the $145 million Loop 303/Interstate 10 interchange south of McDowell Road in Goodyear by fall.
Loop 303 between Grand Avenue and Happy Valley Parkway in northwest Valley
A project to widen the current four-lane Loop 303 into a six-lane freeway along a four-mile stretch between Grand Avenue and Happy Valley Parkway in the northwest Valley is expected to start by the fall. Crews also will start work on a new interchange linking Loop 303 and El Mirage Road. A separate project, also scheduled to start by fall, will reconstruct the interchange linking Loop 303 and Grand Avenue. That new interchange will feature ramps traveling below ground level to allow improved connections between the two roadways.
State Route 24 (Gateway Freeway) in southeast Mesa
By spring, ADOT will open the new "freeway-to-freeway interchange" linking the Loop 202 Santan Freeway with the first mile of State Route 24 (Gateway Freeway) in southeast Mesa. The new connections will allow drivers to travel between Loop 202 and Ellsworth Road, providing faster access to areas around Phoenix-Mesa Gateway Airport. The city of Mesa issued bonds to accelerate the construction schedule for the project by several years.
New Loop 101 HOV-Lane Ramps near Westgate in Glendale
A project that started last October will connect ramps via the Loop 101 HOV lanes to the center of the Maryland Avenue bridge near University of Phoenix Stadium. The new ramps will add access points for the Westgate area, Jobing.com Arena and the stadium. They will be completed this spring, well ahead of the Arizona Cardinals' 2014 season and Super Bowl XLIX in 2015.
Interstate 10 Interchange at Perryville Road in West Valley
Crews will break ground this spring on a project to add on- and off-ramps to provide an I-10 interchange at Perryville Road at the boundary between Goodyear and Buckeye.
Loop 202 South Mountain Freeway
ADOT expects to release the Final Environmental Impact Statement (EIS) for the proposed South Mountain Freeway later this year, at which time a 60-day public review period will begin. The freeway would run east and west along Pecos Road and then turn north between 55th and 63rd avenues, connecting with I-10 on each end. The South Mountain Freeway is also part of the Regional Transportation Plan funding passed by Maricopa County voters in 2004 through Proposition 400.
Tucson Area Projects for 2014
The state's second-largest metropolitan area will see several highway projects move forward in 2014. In early 2014, ADOT will complete work on a major roadway widening project in Tucson that will expand Interstate 10 to four lanes in each direction, while building an overpass so freeway traffic can avoid a busy intersection that is often congested when trains from the Union Pacific Railroad are in use. New projects in the Tucson region include State Route 77 (Oracle Road) widening and the expansion of State Route 86 (Ajo Highway).
Interstate 10 Widening (Ruthrauff to Prince roads in Tucson)
ADOT is nearing completion of a $76.4 million project to widen more than two miles of I-10 between Ruthrauff and Prince roads in Tucson. Major improvements include widening the freeway to four lanes in each direction and reconstructing the Prince Road traffic interchange so Prince Road will pass over the Union Pacific Railroad tracks and I-10. The project is slated to be completed this spring. This project comes on the heels of a six-mile-long reconstruction and widening project that was completed in 2009 through the downtown Tucson corridor between Prince Road and 29th Street. Once the latest I-10 project is complete, ADOT will have expanded an eight-mile segment of I-10 to four lanes in each direction through the Tucson metro area.
State Route 77 Widening (Tangerine Road to Pinal County Line)
In summer 2014, ADOT will upgrade a six-mile section of SR 77 (Oracle Road) between Tangerine Road and the Pinal County Line from two lanes to three lanes in each direction. Along with widening the roadway, planned improvements include raised medians, traffic signal and drainage improvements, wildlife crossings, sound walls and multiuse paths. The $44 million project is slated to take two years to complete.
State Route 86 (Valencia to Kinney roads)
In late 2014, ADOT is expected to begin construction on expanding SR 86 (Ajo Highway) to two lanes in each direction from Valencia Road to Kinney Road in Pima County, 10 miles west of downtown Tucson. This seven-mile-long, $45 million project in Pima County will enhance safety and improve traffic flow on the highway, which serves as a regional transportation route between Tucson and south-central Arizona. SR 86 provides access to the Tohono O'odham Nation and is widely used to reach the popular tourist destination in Mexico called Puerto Peñasco, also known as Rocky Point.
Interstate 10 Realignment/Cienega Creek Bridges (Marsh Station)
Approximately 25 miles east of downtown Tucson, ADOT is nearly completed with a safety improvement project on I-10 that began late in 2012. The $17.2 million project included last spring's demolition of the old Pantano Union Pacific Railroad Bridge, which now allows most of today's taller commercial trucks to travel on I-10 and avoid the current 67-mile detour to pass through the area. Other improvements include construction of two new bridges at Cienega Creek that will prevent flooding on the highway, and reconstructing and realigning I-10 to provide a divided median to enhance safety. The project is scheduled for completion this May.
Statewide Projects for 2014
In northern Arizona, ADOT will complete Interstate 17's first climbing lane at the top of Copper Canyon south of Camp Verde. Drivers traveling between Phoenix and Las Vegas can also look forward to two new widening projects on US 93 that will transform another segment of this highly traveled route into a modern four-lane divided highway.
In southern Arizona, key projects include expanding a section of US 60 near and through Superior, a new bridge on State Route 90 over the San Pedro River in Cochise County and an improvement project on US 95 in downtown San Luis near the U.S./Mexico border.
Northern Arizona
US 93 Widening (Antelope Wash)
This three-mile segment of US 93, located approximately 20 miles north of Wikieup (mileposts 101-104), will be improved from a two-lane roadway to a four-lane divided highway. The $19.4 million project is one of a series of widening projects ADOT has scheduled or completed on this heavily traveled corridor between Phoenix and Las Vegas. ADOT's long-term vision is to transform this route into a modern four-lane divided highway through the entire 200-mile stretch. Work is expected to start this summer and be completed in 2015.
US 93 Widening (State Route 71 to State Route 89)
A second US 93 widening project, just north of Wickenburg, is slated to expand a five-mile segment from a two-lane roadway into a four-lane divided highway between the SR 71 interchange and the SR 89 junction (mileposts 185-190). The $23 million project is expected to break ground later this year.
US 89 Emergency Repair (Landslide near Bitter Springs)
Following a Feb. 20, 2013 landslide that caused serious pavement damage to a section of US 89 near the Echo Cliffs, ADOT immediately closed the highway between Bitter Springs and Page, and established detours for motorists traveling to and from Page and southern Utah. Shortly thereafter, geotechnical experts and ADOT engineers conducted an investigation to determine the exact cause of the damage and establish the plan to rebuild the roadway. The agency's long-term solution is a $25 million emergency repair project that will include shifting the roadway up slope and creating a gravity buttress at the base of the mountain. ADOT is working to rebuild the highway as soon as safely possible and if there are no right-of-way or environmental hurdles, construction could start as soon as this summer.
Interstate 17 Climbing Lane (Copper Canyon)
The first climbing lane built on I-17, located just south of Camp Verde, is scheduled to open this summer after breaking ground in early 2013. The project will improve safety, ease congestion and prevent delays on the main travel route between northern Arizona and Phoenix. The $11.9 million project, which includes adding an additional lane on southbound I-17 to the top of Copper Canyon, will allow large trucks to gain speed before merging into the travel lanes.
Interstate 15 (Virgin River Bridge No. 6)
In 2012, ADOT successfully secured a federal grant to rehabilitate one of the eight bridges on I-15 in the Virgin River Gorge in the northwest corner of the state near Littlefield. The $27 million project, which will begin this spring, includes replacing the bridge superstructure (girders, deck, railings) and increasing the width of the bridge roadway. The project is expected to be completed in 2015.
US 89 Widening (Cameron)
In 2014, ADOT is starting a project in Coconino County to expand US 89 from two lanes to four lanes through the community of Cameron, approximately 50 miles north of Flagstaff. The $36.7 million project between State Route 64 and the Little Colorado River (mileposts 464-467) will include the construction of a new bridge over the river and a new roundabout, installation of street lights through Cameron, and new sidewalks and pedestrian underpasses.
State Route 89 Widening (Chino Valley)
ADOT will improve a five-mile stretch of SR 89 between Road 4 South in Chino Valley and Deep Well Ranch Road in Prescott with a $25 million project beginning this spring. The highway will be upgraded from a two-lane to a four-lane divided highway, while enhancing safety for drivers between Chino Valley and Prescott. The project is slated for completion in 2015.
US 191 (Sanders Bridges)
As part of a $13.6 million improvement project in Apache County, ADOT is replacing three existing bridges, which were built in 1949, at the junction of US 191/Interstate 40 west of Sanders and realign US 191 (mileposts 367-369). The project, which began in late 2012, is expected to be finished this spring.
Southern Arizona
US 95 San Luis Street Improvements
ADOT and the city of San Luis will begin work this spring on an improvement project on US 95 (Main Street) in the downtown San Luis area to improve traffic flow to and from the U.S./Mexico Port of Entry, enhance pedestrian safety and improve access to downtown business. The $8 million project is slated to be finished by the end of 2014.
US 60 Widening (Silver King/Superior Streets)
In late 2014, ADOT is expected to start a project to convert the last remaining two-lane roadway segment on US 60 between Phoenix and Superior into a modern, four-lane divided highway. The $45 million project (mileposts 222-227), which will also include improving the urban section of highway in Superior, is expected to take two years to complete.
State Route 90 (San Pedro Bridge)
Early this year, ADOT will complete work on replacing the San Pedro Bridge, which was built in 1954 and is located east of Sierra Vista on SR 90. After replacing the eastbound half of the bridge in 2013, the westbound bridge will be replaced this March. The $7 million project includes a new bridge structure that meets modern design standards and has wider lanes for drivers. The project, which began in late 2012, was limited to an October-March construction schedule to avoid disrupting the migratory bird nesting season in the San Pedro Riparian National Conservation Area.