Portable signs point the way to bypassing I-17 work zone
Portable signs point the way to bypassing I-17 work zone
By Doug Nintzel / ADOT Public Information Office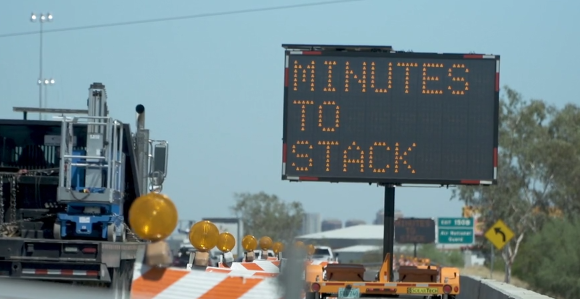 The important ongoing project to reconstruct the Interstate 17 bridge over Central Avenue south of downtown Phoenix remains in an early stage. But before the work got started, our staff at ADOT knew the bridge work zone would present challenges for drivers who use the stretch of I-17 between the I-10 "Stack" and "Split" interchanges.
A decision was made to incorporate a "Smart Work Zone" safety innovation into the I-17 project at Central Avenue. As you can see in this ADOT video, the project team has followed through with the placement of portable message signs on trailers at nearby freeway locations to provide drivers with travel times for both I-10 and I-17 in the downtown area.
For example, one of our message signs along westbound I-10 near Phoenix Sky Harbor International Airport provides both I-10 and I-17 travel times. That allows drivers to compare the estimated travel time for using northbound I-17, which includes the work zone, or what to expect by staying on I-10 in the downtown area.
On average, the optional I-10 route that includes traveling through the Deck Park Tunnel is saving drivers five or more minutes of commute time, not to mention avoiding the frustration associated with slow moving traffic in a work zone. Even with lighter traffic conditions on freeways during the current health situation, there are times when slow downs and backups occur on I-17 in the area approaching the bridge work at Central Avenue.
The portable sign system uses traffic data to calculate the estimated travel times to predetermined destinations. This system is much like the one used to provide drivers with valuable travel times on ADOT's permanent electronic message boards along Valley freeways.
As part of this pilot project, portable message boards also have been placed in areas along I-10 approaching interchanges connecting to the new Loop 202 South Mountain Freeway. Those signs also provide drivers with estimated travel times for using either Loop 202 or I-10 through the downtown Phoenix region.
ADOT has recently established several Smart Work Zone initiatives to help offset challenges associated with keeping traffic moving while construction is taking place. Those innovations include an I-15 queue warning system in the Virgin River Gorge, providing drivers with information to prepare for stop-and-go conditions ahead. Another example is the I-40 dynamic merge system east of Flagstaff that adjusts methods for merging depending on conditions near a bridge project at Meteor Crater.