Progress can be seen on Loop 101 ramps in Glendale
Progress can be seen on Loop 101 ramps in Glendale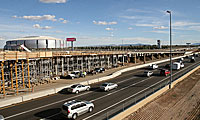 Remember when we first told you about the Loop 101 freeway ramp project that's under construction out in the West Valley?
It was just back in November, but already work is now around 80 percent complete. Since this project is moving fast, we thought now would be a good time to share some recent photos from the site.
Of course, Loop 101 drivers in Glendale already know what this project looks like – they've got a front-row view of progress being made on the new freeway ramps that will connect with the Maryland Avenue Bridge near University of Phoenix Stadium.
More on the project
In one of the latest milestones, crews have attached all four of the ramps to the bridge. The ramps are connected to the bridge via the freeway's HOV lanes.
The project remains on schedule for completion by spring.
The project, designed to provide additional access points in the Westgate area, will be finished well ahead of the Arizona Cardinals' 2014 season and Super Bowl XLIX early next year. The work started last October.
ADOT is managing the construction of the $11.7 million project, which is supported by the city of Glendale and paid for with regional transportation funds from the Maricopa Association of Governments.
You can learn more about the project on our website or by checking out our previous blog post.