Progress on new I-17/Cordes Junction interchange continues
Progress on new I-17/Cordes Junction interchange continues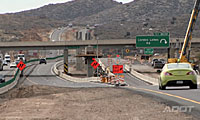 Just last month we blogged about a project that's under way on I-17 and SR 69 in Cordes Junction.
So, maybe you're wondering why we're bringing it up again so soon …
Well, we're blogging about it today because we've got an awesome new video (see above) that details the entire project and shows footage from January when crews installed some precast girders – a milestone in the construction.
When all the work is complete – around summer 2013 – motorists are going to have a much easier time maneuvering the interchange that sits halfway between Phoenix and Flagstaff. That's because the project includes:
New bridges on SR 69
The removal of the outdated on- and off-ramps
A new I-17 interchange
Two new bridges and ramps built over I-17 to connect with SR 69
The construction of a new Arcosanti Road, along with the realignment of Copper Star Road and Stagecoach Trail.
"I think this is going to be a major center for the folks around here and also for the state of Arizona," Cordes Junction business owner Jerry Schultz says in the video above.