With projects underway in high country, be sure to 'Move Over' in work zones
With projects underway in high country, be sure to 'Move Over' in work zones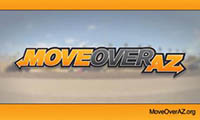 By Doug Pacey / ADOT Communications
Motorists might have noticed an uptick in road work across northern Arizona in the past few weeks as summer temperatures provide a window for paving and improving state highways in the high country.
That's why ADOT is launching a summer safety campaign in northern Arizona that encourages motorists to drive safely in work zones and reminds them of the "Move Over" law. The campaign will feature safety messages on overhead signs in the area and on ADOT's social media channels.
Motorists that follow the "Move Over" law help keep ADOT work crews, as well as first responders, safe on Arizona's roadways. "Move Over" requires motorists to move over one lane – or slow down if it is not safe to change lanes – when approaching vehicles with flashing lights pulled to the side of the road.
When driving in work zones – there are multiple planned paving projects on Interstate 40 west of Flagstaff this summer that will have lane restrictions – follow these tips to protect yourself and the men and women who build and maintain the state highway system:
Pay attention: Observe and obey posted warning signs, as well as flaggers. You can be cited for disobeying a flagger's directions.
Expect the unexpected: Speed limits might be lowered, travel lanes could be narrowed or eliminated and people may be working near your travel lane.
Slow down: Speeding is one of the leading causes of work zone crashes.
Merge safely: Do it early and carefully or as directed by signage instead of barging into a line of vehicles at the last moment.
Don't tailgate: The most common crash in a work zone is the rear-end collision. Don't follow too closely and, again, slow your speed.
For more information about work zone safety, visit azdot.gov/workzone. Information about "Move Over" is available at moveoveraz.org.
For the most current information about highway closures and restrictions statewide, visit ADOT's Traveler Information Site at az511.gov, follow us on Twitter (@ArizonaDOT) or call 511.