Pup rescued from SR 51 has a good home in her future
Pup rescued from SR 51 has a good home in her future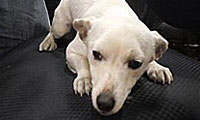 A little dog that made her way onto SR 51 during Monday evening's rush hour and miraculously avoided being hit by traffic now has a good home in her future.
Of course dogs don't belong on the freeway, but this pup didn't know that…
She was spotted on camera at about 6:15 p.m. by ADOT operators at the Traffic Operations Center.
"We watched her run across the northbound lanes of SR 51," said ADOT Public Information Officer Caroline Carpenter. "Next, she started running southbound in the northbound lanes next to the median wall for a while. Then we watched her try to jump onto the median wall. After many tries, she finally made it."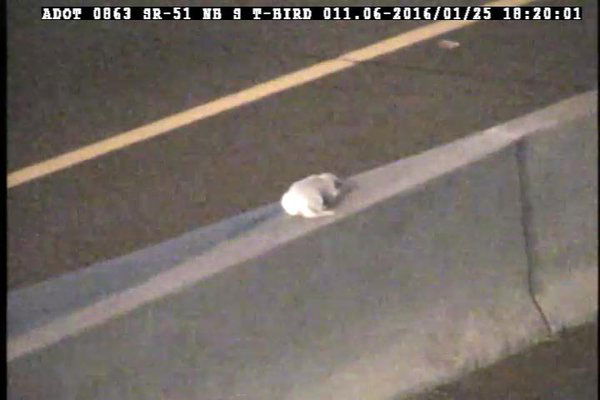 Gil Estrada, a traffic reporter who works out of the TOC, was able to pick the dog up and bring her back. From there, Jayson Winter, one of ADOT's TOC operators, took the dog to an emergency veterinarian who gave her an exam and confirmed she wasn't microchipped.
With no microchip and no collar, there was no way to tell who this dog might belong to, so Winter took her home for the night and ADOT's Twitter Team put the word out through social media. A number of news media outlets became interested and helped to spread the story.
"The whole idea was to try and find the owners," says Tom Herrmann, a member of ADOT's public information team who is based at the TOC.
As of this moment, no one has claimed the dog, but many other people have come forward. From well-wishers on Twitter to offers of adoption on Facebook, the response has been amazing.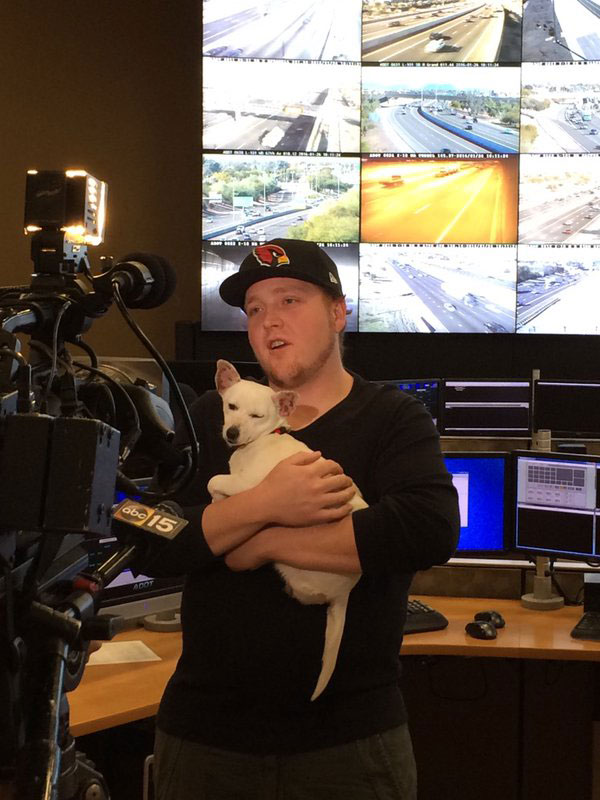 The Arizona Equine Rescue Organization heard about the story and offered to provide a safe, quiet home for the dog while her owners are being located. If the owner cannot be found, AERO will facilitate finding the right home for the pup, which they've decided to call Dottie (you know, as a shoutout to ADOT)!
As happy as this ending is, we can't forget that many animals who gain access to the freeway system aren't as lucky as Dottie.
Drivers who see a dog (or any other type of animal) on the highway should call 911. Motorists should NOT get out of their vehicles and attempt to capture the animal, as that could pose a danger to themselves and other drivers.
Revisit our previous post for more information on how to keep your pets safe and out of the roadway. If you're in the mood for another animal rescue story, you can read about the time two ADOT employees rescued a dog from SR 260.