From the Rearview Mirror: I-10 tunnel upkeep
From the Rearview Mirror: I-10 tunnel upkeep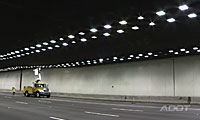 With hundreds of blog posts in our archives, we understand if you haven't had a chance to read them all.
However, there's a lot of interesting content in those early posts and we don't want you to miss out. That's why we're looking back and highlighting some of our favorites in a new series called, "From the Rearview Mirror."
Originally published on Aug.18, 2011, this post explains how crews regularly clean and maintain the I-10 Deck Park Tunnel.
---
Cleaning, maintenance all part of I-10 tunnel upkeep
Originally published in 2011, this video shows how the Deck Park tunnel is maintained.
With roughly 240,000 vehicles driving through it each day, the I-10 Deck Park Tunnel needs the night off every once in a while for a good, thorough scrub!
Just about every four months, the tunnel is closed to traffic in order to allow crews the chance to wash the walls, maintain the ventilation systems and check on the tunnel's 3,700 light fixtures (about 150-200 light bulbs are changed out each quarter!).
Crews typically complete the cleaning over two nights. That means only one side of the tunnel needs to be closed each night … leaving the other direction open to traffic.
Cleaning the white tile walls not only gives the tunnel a fresh look, but it also helps brighten things up a bit.
"We're washing the walls and keeping them clean so the light bounces off the wall onto the deck so it makes a better drive through," says ADOT Highway Operations Supervisor Ed Walsh in the video above.
A little history…
For anyone fairly new to the Valley, it might be hard to believe that the Deck Park Tunnel represents part of Interstate-10's "final mile."
It was 21 years ago this month that the tunnel was completed, closing up the last remaining gap in the 2,460-mile-long interstate that stretches across the country.
The project was a big one because the path of this final mile was in between two historic Phoenix neighborhoods.
Designers came up with an innovative plan to limit the impacts on the communities. Builders dug out the freeway's path, put in the 10-lane roadway and covered up the top of the road with a deck made out of 19 side-by-side bridges, created a tunnel and then built a 30-acre city park on top. The project took more than five years to finish and cost an estimated $700 million.