Research Center guides ADOT toward transportation innovation
Research Center guides ADOT toward transportation innovation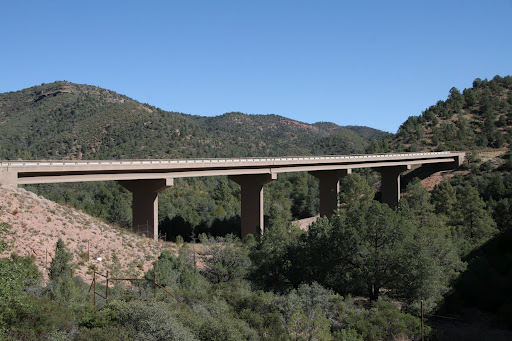 Much has changed since ADOT got its start in 1927.
Back then, the agency was known as the Arizona State Highway Department and roads certainly were built a little differently. Methods, materials and technology have changed so much since then.
Amazingly, they're still evolving today …
ADOT keeps up with transportation advancements through research. The ADOT Research Center oversees that research, which is aimed at improving all aspects of transportation in the state and beyond.
But, don't think the studies and research produced by this team just sit on a shelf once completed.
The information generated by ADOT's Research Center focuses on evaluating new materials and methods. ADOT's researchers look at developing design and analysis techniques and study the underlying causes of transportation problems.
In other words, this research leads to better methods, innovative practices and new ways of doing things, giving Arizonans a better value when it comes to transportation!
To get an idea of how this research ends up influencing the way ADOT operates, take a look at the seven emphasis areas within the ADOT Research Center :
The Environment emphasis explores the interaction between transportation and the environment. Studies from this discipline look at air quality policy, emissions reduction, transportation-generated noise, wildlife and other environmental topics.
The Maintenance emphasis researches how to enhance the maintenance and operation of roadways. A recent study is evaluating the effects of snowplow and deicing chemicals on rubberized asphalt pavements.
Materials and Construction studies scrutinize the products and methods used in constructing roads. One study from this emphasis provided research into the noise reduction properties of rubberized asphalt.
Research within the Structures emphasis area aims to apply effective modern technology and resources to enhance the implementation of bridge management systems, including the repair of over-stressed bridge decks.
Traffic and Safety research not only investigates engineering principles to help solve traffic problems, but it often takes into account the psychology and habits of drivers. Research projects have included a study on seat belt usage in Arizona.
Intelligent Transportation Systems analyzes ways to integrate advanced communication technologies into transportation infrastructure. Study topics have included freeway ramp metering, electronic message signs and emerging technology.
The Planning and Administration discipline looks to our transportation future – how ADOT can best meet travelers' needs as the population grows, our society evolves and technology offers more options. This emphasis also addresses organizational issues within ADOT. One ongoing study within this emphasis will report on how new media can bolster ADOT's community outreach.
There's much more to learn about this team. Visit the Research Center's webpage for additional information and stay tuned. In the future we'll blog about the ADOT Research Center 's library and product evaluation program.