Scouts do a good turn by cleaning up SR 87 for Day of Service
Scouts do a good turn by cleaning up SR 87 for Day of Service
By Jon Brodsky / ADOT Communications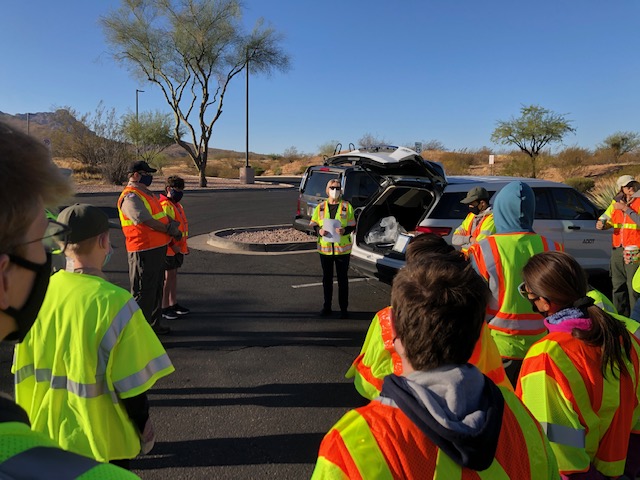 On a cool, November morning (by Arizona standards), a small group of scouts from Scottsdale gathered in a parking lot off State Route 87 in the Fountain Hills area. They wore yellow-and-orange vests, work gloves and face masks. 
The task for these Boy Scouts from Troop 616 in Scottsdale? Safely cleaning up trash on the side of the highway through ADOT's volunteer Adopt a Highway program. 
"It's pretty motivating," said 15-year-old Pinnacle High School 10th grader Justin Hutchison, who worked to bend down his 6-foot-3-inch frame to pick up trash. "Especially with the pandemic going on it's important we can get out and do projects, because that's a big part of scouting."
The Nov. 14 cleanup was part of the Boy Scouts' Grand Canyon Council's Day of Service. The troop covered between mile markers 190 and 192 on the Beeline Highway, a stretch that starts the gateway to the Mogollon Rim.
"We camp quite often as a troop in the Payson area at the two Boy Scout camps up there so we drive ... 87 quite a bit," said Scoutmaster David Hutchison (yes, Justin's father!), who shepherded the troop through the cleanup along with the other adult scout leaders.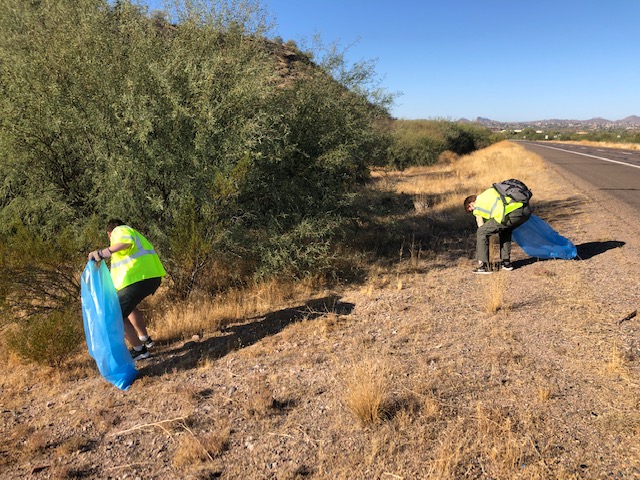 "We're just trying to serve the community," the scoutmaster added. "A lot of them think it's really cool because they've never done it, but as scouts we try and instill in them the values of the Scout Law, and providing service and giving back to the community is a big part of that, so they're all more than happy to do this."
The troop spread out, socially distanced along the stretch in small groups, filling two dozen bags of trash by the end of the morning.  
You can be like Troop 616 and volunteer to Keep Arizona Grand. Adopt a Highway is limiting cleanups during the current public health situation to smaller groups, as recommended by the Arizona Department of Health Services and Centers for Disease Control and Prevention. If your organization is interested in participating in a cleanup and/or adopting a stretch of Arizona highway, visit the Adopt a Highway webpage. 
Scoutmaster Hutchison summed up the lessons of the day of service by saying, "They'll leave today with a lot of pride in what they've accomplished."
"I like the fact that we can help our city and our state and everything," Scout Justin Hutchison said. "We're big about helping the community."