Shared input on the South Mountain Freeway's shared-used path
Shared input on the South Mountain Freeway's shared-used path
By Tom Herrmann / ADOT Communications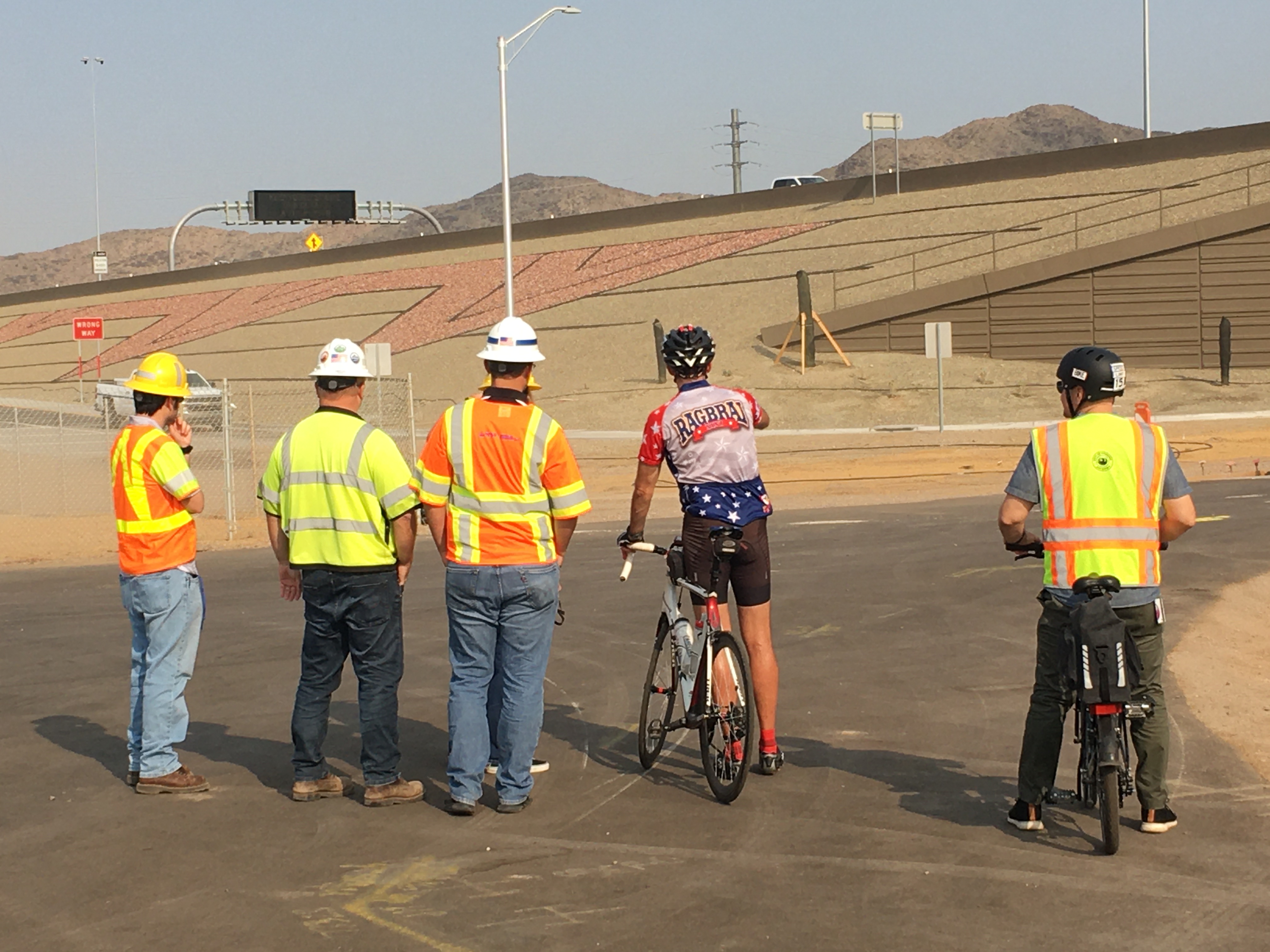 The other morning, before the summer sun made it too hot, about 10 people met just south of the Loop 202 South Mountain Freeway at 40th Street. In about two months that spot will become the eastern end of a shared-use path along what used to be Pecos Road.
Four people were on bicycles, including three local cyclists and a representative of the city of Phoenix. The rest were engineers and others from the Arizona Department of Transportation, which is building the path.
The cyclists led the group slowly down the 6 miles of the path, from 40th Street to 17th Avenue, getting feedback from representatives of the bicycle community.  The others, me included, followed behind in trucks, taking lots of notes and photos.
We stopped at 32nd Street to examine how cyclists and others will safely cross the road - the only place along the route where the path crosses an open street. Riders pointed out a few areas in the pavement that need to be repaired. We looked at Desert Foothills Parkway and 17th Avenue to see how people will access the path at the diverging diamond interchanges.
At each point, construction manager Julie Gadsby and other engineers listened to the cyclists' input and discussed possible ways to address them. We spent more than an hour covering the entire 6 miles.
Compared with a 22-mile, $1.7 billion freeway, the shared-use path might seem like a small thing. It will be about 20 feet wide, with a stripe down the center to separate cyclists from other users,  tucked in between the freeway to the north and the Gila River Indian Community to the south. But, like in many communities, bike paths and other active infrastructure provide convenient, safe opportunities for recreation and exercise in our beautiful Arizona outdoors. 
ADOT leaders have met with Ahwatukee-area residents with an interest in the path several times over the course of the last few years. Our engineers have listened to their input, working together for solutions that work not only for the cyclists but for the walkers, skaters and others who will take advantage of the path once it opens this fall.
On every project, ADOT listens to people who live, work and travel in the area to understand the impact our work will have on their lives, and then develops solutions that accommodate for as many people as possible.
There were a few other cyclists on the path with us that morning, out for a little exercise. The only problem with that: The path is not yet open. With construction equipment still out there, working on the 32nd Street interchange, the path is not a safe place for cycling, walking, skating  or running just yet. Please be patient and wait for our work to be done so we can safely open the path. We are targeting an October opening, and look forward to letting you know when the path is ready for everyone to enjoy.