South Mountain Freeway receives final federal approval
South Mountain Freeway receives final federal approval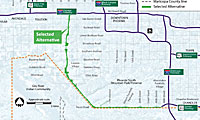 In case you missed the news yesterday…
The Loop 202 South Mountain Freeway has received final approval from the Federal Highway Administration, which means ADOT can now move the project forward.
The Record of Decision, signed March 5 by the Federal Highway Administration, grants the final approval necessary for ADOT to begin the process of acquiring right of way, complete the design and begin construction of the 22-mile-long freeway to serve the metro Phoenix region.
Looking back
If you've lived in Arizona for a while, you've probably been hearing about the proposed South Mountain Freeway since the 80s.
It has been a critical part of the Maricopa Association of Governments' Regional Freeway Program since it was first included in funding through Proposition 300, approved by Maricopa County voters in 1985. The freeway was also part of the Regional Transportation Plan funding passed by Maricopa County voters in 2004 through Proposition 400.
More recently, you might also remember the environmental review process, which included preparing both draft and final environmental impact statements.
Looking ahead
The recent Record of Decision will allow ADOT to begin final design and subsequent construction of the South Mountain Freeway. Acquisition of right of way is expected to begin immediately. ADOT has determined that, pursuant to an unsolicited proposal submitted to construct the freeway, construction will follow a public-private partnership path, helping to speed construction and reduce overall costs. The freeway would not be tolled under any public-private partnership proposal, but would include a private group involved with final design, construction and a 30-year agreement to maintain the freeway.
The freeway will be constructed with four lanes in each direction – three general-use lanes and one HOV lane – and modern features that have made Arizona freeways stand apart from other states for a generation, including rubberized asphalt and aesthetics designed in partnership with the community. The $1.9 billion project is expected to take about four years to construct.
Got questions?
You can also revisit some of our previous blog posts.