South Mountain Freeway: What a difference a year makes
South Mountain Freeway: What a difference a year makes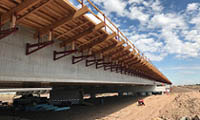 By Dustin Krugel / ADOT Communications
Nearly one year after major construction began on the Loop 202 South Mountain Freeway, the state's largest single project ever, signs of progress abound in the 22-mile corridor. You'll see some this progress (of Salt River bridge construction) in the slideshow above, and many more photos are available on our South Mountain Freeway Flickr page.
This progress is good news for Valley motorists, as the South Mountain Freeway is going to bring traffic relief when it opens by late 2019.
Throughout this year, crews have relocated utilities, started work on bridges, built sound walls and made significant progress on freeway-to-freeway ramps taking shape at Interstate 10 and 59th Avenue in the West Valley.
Through the end of November, more than 3.6 million cubic yards of dirt had been moved to build bridge and wall foundations, embankments and connecting ramps. Eight miles of drainage pipe was installed and 5.8 million pounds of reinforced steel planted. That's according to ADOT and Connect 202 Partners, the developer responsible for building the freeway.
Some of the highlights:
Pecos segment (32nd Lane to I-10 Maricopa/Loop 202 Santan Freeway)
An interim Pecos Road supports local traffic while mainline freeway construction occurs just north of the roadway
Overpasses at 40th Street and 17th Avenue are nearing completion
Salt River segment (Lower Buckeye Road to 51st Avenue)
Construction has begun on interchanges at Elliot Road and Southern Avenue, which are closed temporarily for this work
Two half-mile Salt River bridges, the longest on the project, are about halfway complete
I-10 segment (I-10 Papago to Lower Buckeye Road and improvements to I-10 between 43rd and 75th avenues)
Work is more than one-third complete on a 1,500-foot flyover ramp that will carry northbound South Mountain Freeway traffic to westbound I-10
Work is nearly halfway done on two access roads adjacent to I-10 that will improve traffic flow between 51st and 67th avenues
The South Mountain Freeway will provide a long-planned direct link between the East Valley and West Valley and a much-needed alternative to I-10 through downtown Phoenix. Approved by Maricopa County voters in 1985 and again in 2004 as part of a comprehensive regional transportation plan, the South Mountain Freeway will complete the Loop 202 and Loop 101 freeway system in the Valley.
For more information on the project, visit SouthMountainFreeway.com.