SR 143 construction surpasses half-way mark
SR 143 construction surpasses half-way mark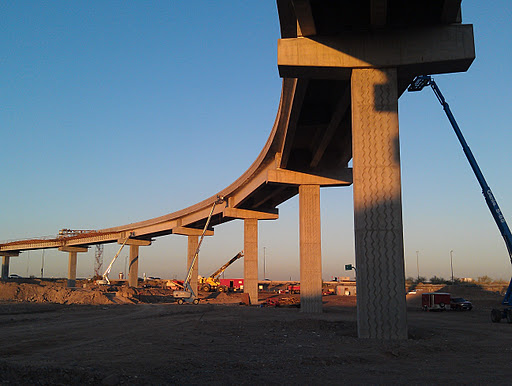 The improvements to SR 143 are really coming along...
In fact, construction now is about 64 percent complete!
Another highlight to point out is that there are no restrictions or closures planned for this project through the beginning of the new year. That's important to know during this busy holiday travel season because SR 143 (also known as the Hohokam Expressway) provides many drivers access to Phoenix Sky Harbor International Airport.
About the project
As we told you back in July this project includes the addition of two new ramps that are being constructed on the SR 143 to help commuters get directly in and out of the airport.
A third ramp will connect motorists traveling on westbound Sky Harbor Boulevard directly onto southbound SR 143, which will ease congestion at the intersection of Sky Harbor Boulevard and SR 143 by allowing drivers to bypass the intersection and gain quicker access to I-10.
There's also an existing ramp on the east side of SR 143 that is being reconstructed along with signage improvements and landscape work.
A few construction milestones ... so far
Just last week, crews started widening southbound SR 143 at the Salt River Bridge. When complete, this area of freeway will be expanded from three to four lanes in order to handle the traffic merging from the new west and east ramps.
Crews used 50,000 cubic yards of dirt (yes, we're talking about dirt again!) to form an embankment that will support the new ramp connecting eastbound Sky Harbor Boulevard directly onto southbound SR 143.
The ramp connecting westbound Sky Harbor Boulevard with southbound SR 143 is nearly complete (see photo above) and should open to motorists by early 2012 while other construction improvements continue to be made on the rest of the project.
When construction on the entire project is complete in summer 2012, drivers are going to have improved access to and from the airport and they'll experience better traffic flow on SR 143.