State budget provides for full I-17 improvement north of Valley
State budget provides for full I-17 improvement north of Valley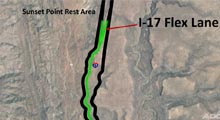 By David Rookhuyzen / ADOT Communications
The state budget approved by state lawmakers and signed by Governor Doug Ducey provides a $130 million needed to complete widening I-17 north of Anthem, in addition to where the flex lanes have already been planned between Black Canyon City and Sunset Point.
ADOT has been working to advance projects to improve traffic flow and safety along 23 miles of I-17 between Anthem and Sunset Point north of Phoenix. More than $190 million was already committed to building flex lanes north of Black Canyon City as well as adding 7 miles of a third southbound lane directly south of that project.
Investing an additional $130 million over three years will allow ADOT to complete all sections of new third lanes between Anthem and Black Canyon City. Combined with the flex lanes, this increased capacity will enhance safety and help address traffic flow challenges and backups that occur due to crashes and when many drivers are traveling to or from Arizona's high country on summer weekends.
You can see a visualization of the project and how the flex lanes will operate in the video above.