Take a look at I-17 interchange projects on the rise
Take a look at I-17 interchange projects on the rise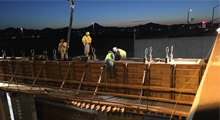 By David Rookhuyzen / ADOT Communications
How do you start rebuilding two interchanges on a busy metropolitan interstate? From the ground up, of course.
Drivers on Interstate 17 north of the Loop 101 can't have failed to notice the work being done in the median and the shoulder at Pinnacle Peak and Happy Valley roads. Crews have been hard at work since November on this project, but it's only in the past month and a half, following utility, underground pipe and box culvert work, that they've started getting the project vertical.
As you can see in the video above and the photo slideshow below, both featuring work at Pinnacle Peak Road, we are making progress erecting bridge abutments and piers to eventually hold the girders for bridge decks at these new interchanges.
Once the piers are ready, we'll schedule closures of I-17 to put the new girders into place. But before all that happens, take a look at how the project is going so far.
You can learn more about the project at its page on our website.