Take a ride along the Loop 202 South Mountain Freeway's 22 miles
Take a ride along the Loop 202 South Mountain Freeway's 22 miles
By Steve Elliott / ADOT Communications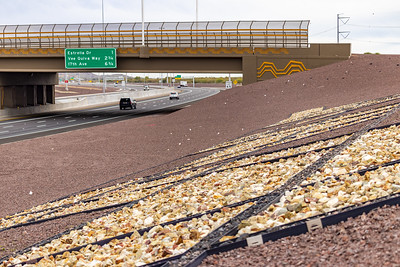 If you follow this blog or ADOT's other social media channels, you won't be surprised by me saying that we're over-the-moon excited about opening the Loop 202 South Mountain Freeway. Just hours after Saturday's big announcement, Junior and I excitedly headed off to west Phoenix and drove all 22 miles. Twilight glowing on the mountains made for an otherworldly experience – though I promise that I gave the road my undivided attention. 
We even tried out one of the half-diverging diamond interchanges, located at Desert Foothills Parkway and 17th Avenue, that are among 15 interchanges along the freeway. Not surprisingly, the experience was easy peasy. Diverging diamond interchanges are a proven solution to improve safety and mobility for all at the right locations. In the not-too-distant future, Happy Valley Road at Interstate 17 in north Phoenix will have a full diverging diamond interchange, with Houghton Road in the Tucson area among other sites where DDIs will be used. 
I hope you've had the chance to experience the South Mountain Freeway and see what an impressive addition it is to Arizona's transportation system, one that makes the Phoenix region a better place to live and work. If that isn't happening any time soon for you, we've done next best thing by providing the photo slideshow at right and the video below from all along the route. The slideshow also includes pictures from beyond the freeway, including a nursery where we're storing native plants before putting them along the freeway.
While the South Mountain Freeway is open to traffic, do note that work will continue into 2020 in several areas, including a traffic interchange at 32nd Street, a 6-mile multi-use path between 40th Street and 17th Avenue in Ahwatukee and landscaping. The 32nd Street interchange was added after the initial design at the request of area residents.
Now, as thrilled as Junior and I were to try out the South Mountain Freeway, please allow me to offer one gentle suggestion based on what we saw from a few other drivers: Please slow down and use this new freeway safely, as you would any other freeway or road. We witnessed some speeders getting a well-deserved lesson courtesy of state troopers. 
In the South Mountain Freeway, it's fulfilling to see how a transportation improvement of this scale can improve the quality of life for an entire community. I hope you will enjoy your first trip as much as we did and that you use this freeway safely for decades to come.