Temporary ponds providing water for South Mountain Freeway construction
Temporary ponds providing water for South Mountain Freeway construction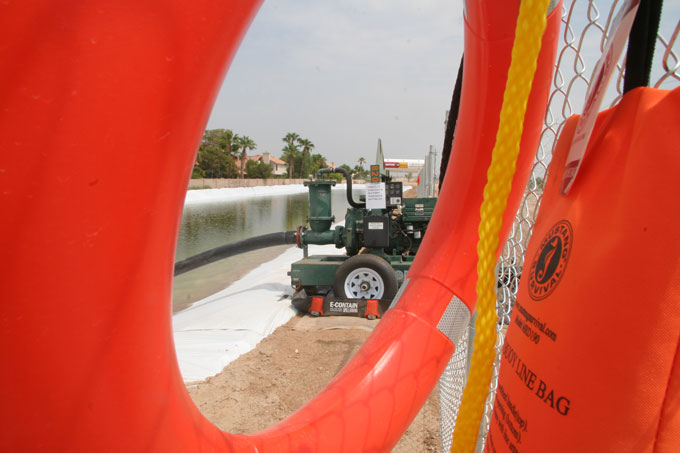 By Dustin Krugel / ADOT Communications
Building a freeway requires lots and lots of water for dust mitigation and compaction, but getting the water to a construction site can be challenging.
Since many freeway sites don't have access to water nearby, trucks are often used to import water from long distances. This can be time-consuming and adds more construction traffic on local streets.
A more effective method to deliver large quantities of water to a construction site is to create a pond, as ADOT has done on major projects including State Route 24 (Gateway Freeway) in Mesa and the Loop 303/I-10 interchange project in Goodyear.
Using ponds also has the environmental benefit of cutting on emissions from trucks having to haul water a long way.
For the Loop 202 South Mountain Freeway project, Connect 202 Partners, the developer responsible for building the 22-mile freeway, has constructed four temporary ponds, each with its own pump, along the Pecos segment between 40th Street and 32nd Lane. The ponds, which have plastic liners, will be removed when construction is completed by late 2019.
At 100 feet long and 40 feet wide, each pond is slightly longer than an NBA basketball court, is about 9 feet below ground level and can hold nearly 2.7 million gallons of water. A 6-foot-tall fence provides security around each pond, and flotation devices are stationed at intervals.
A Salt River Project water source continually supplies water to the ponds. Then it's loaded into water trucks as needed to reduce blowing dust and wet the ground to easily move and compact the dirt during construction.
This continuous flow of water is particularly important, as it prevents mosquitoes. It's the same process used in artificial ponds at parks and in other settings. Construction ponds turn over their water daily.
Temporary construction ponds are also in use at other sites along the freeway corridor.