Throwback Thursday: Capturing a moment
Throwback Thursday: Capturing a moment
By David Rookhuyzen / ADOT Communications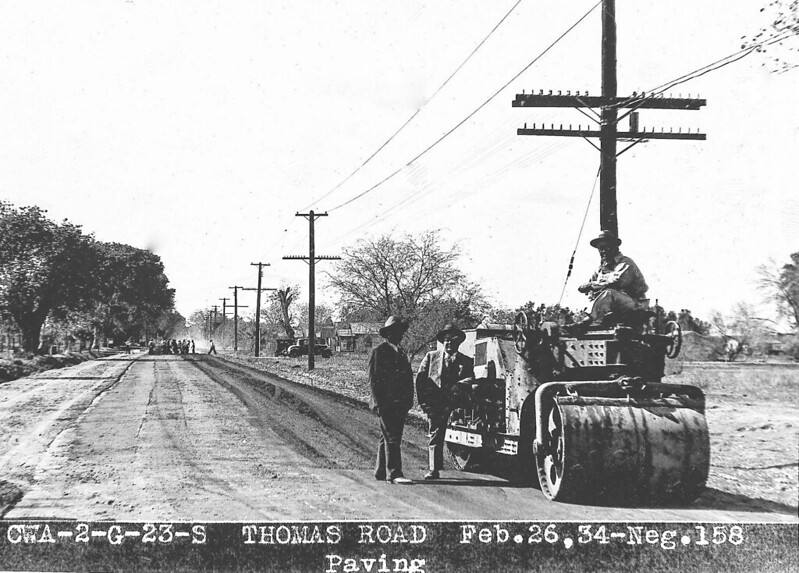 We have quite the talented group of shutterbugs here at ADOT, as evidenced by the quantity and quality of the highway construction photos you can easily find on our Flickr page.
If you have paid any attention to our Throwback Thursday blogs, you know that we also have a rich archive to draw on to see what construction was happening decades ago. Between both, there are thousands of photos that are each capturing a moment in time, showing us the people, places and equipment that came together to build the transportation infrastructure we enjoy today.
That's why we like this photo so much. As the caption says, this was taken during paving operations on February 26, 1934 on an unnamed stretch of Thomas Road. You can immediately spot the plethora of differences that has taken place in the last nearly 90 years. There's the equipment, the old cars in the background and the wooden telephone poles running the length of the street. Can you imagine visiting a construction site in a three-piece suit and fedora?
Also, how about that street? In 2020, Thomas Road is a major route that runs – with some gaps – between 144th Avenue in Goodyear to Power Road in east Mesa, cutting through much of the heart of the Phoenix metro area. It's come a long way from the dirt-packed, house-lined path that we see here.
This photo is interesting to us because today ADOT oversees state highways and freeways. But apparently, at this time, the then-named State Highway Department was interested in the paving happening along this city street. 
There's a lot to unpack in this photo, but it does raise an interesting question: What will future ADOT bloggers say about the photos we're taking now for the construction on I-10 at Ruthrauff or I-17 and Happy Valley?