Throwback Thursday: How I-17 came to be
Throwback Thursday: How I-17 came to be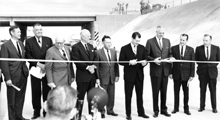 By Angela De Welles / ADOT Communications
We can only imagine what the men in these photographs must have said on Nov. 10, 1964, at the dedication ceremony for a portion of Interstate 17, also known as the Black Canyon Freeway...
They might have remarked how Arizona was in the middle of a population boom. According to the Arizona Transportation History report, the state's population "grew from 750,000 in 1950 to 1.3 million in 1960 and then to 1.8 million in 1970, an increase of more than a million residents in only two decades."
They might also have spoken of their hopes for this new stretch of road and how a versatile transportation system can help transform an area's economy and quality of life for residents.
Maybe they even guessed at the future and envisioned the numerous routes Arizona motorists can drive on today.
While we don't know for sure what they said, we do have some insight into how plans for the Black Canyon Freeway developed over the years. Here's an excerpt from the Arizona Transportation History report that gives more details:
"Phoenix's freeway system began in 1950, with the Black Canyon Freeway, a joint city-state effort designed to relieve rush-hour congestion in Phoenix and also to increase the capacity of State Routes 69 and 79, which connected the Salt River Valley to the Verde Valley and Flagstaff. By modern standards, the Black Canyon Freeway was a modest undertaking: a four-lane controlled access highway (the state's first) that began west of downtown and ran north for a few miles before merging back into the city's arterial street network. Its premiere feature was the state's first freeway interchange, which was built at Grand Avenue and completed by 1957.
"By the time the Grand Avenue interchange had opened, the Interstate highway system was being planned by the federal government, offering Phoenix officials new resources that could be used to significantly expand their new freeway system. The Black Canyon was designated part of Interstate 17, which was planned to connect Phoenix with Flagstaff, and plans were announced for a second freeway, the Maricopa Freeway, which would become part of Interstate 10 between Phoenix and southern Arizona.
"Work began on the Maricopa Freeway in 1958, and soon contracts for both new freeways were being issued on a regular basis. By 1961, more than six miles of the Black Canyon were open to traffic, from McDowell Road to Northern Avenue, and work was proceeding at a rapid pace. In late 1964, the combined Black Canyon–Maricopa freeway was dedicated from 16th Street to just north of the Carefree Highway. At a cost of $33.5 million for 30 miles of roadway—more than a $1 million per mile—it was by far the most expensive highway built in Arizona up to that time."
So much has changed since 1964, but I-17 is still here, giving motorists a way to get around the state.