Throwback Thursday: I-10's rejected helicoils
Throwback Thursday: I-10's rejected helicoils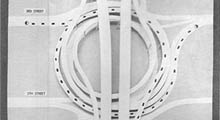 By Garin Groff / ADOT Communications
When you think of something as substantial as a freeway, it might seem like it was always meant to be just as it is.
It turns out highway plans aren't always set in concrete.
That's especially the case with Interstate 10 just north of downtown Phoenix. That's where the Papago Freeway vanishes below the Margaret T. Hance Deck Park for several blocks near Central Avenue.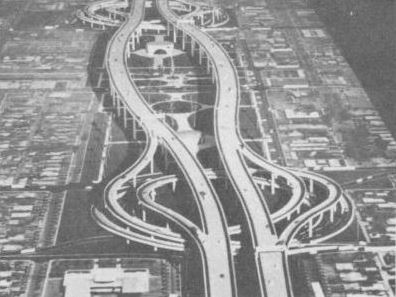 The subterranean design that 230,000 motorists take for granted on a daily basis was only the last of several concepts that included a freeway 100 feet above Phoenix. For drivers to leave this highway, they'd spiral down through a "helicoil" that would have drivers making a 270-degree spiral turn to eventually connect with Third Avenue, Fifth Avenue or Third Street.
The plan was developed in late 1960s and early 1970s by the Arizona Highway Department, precursor to ADOT. The helicoil concept (as pictured at right from a 1966 pamphlet and featured as a throwback below in a video about modern freeway planning) followed other ideas and potential freeway routes dating to at least 1959, as a rapidly growing Phoenix weighed options for an east-west highway near downtown.
As soaring as the helicoil concept was, it didn't take flight. Voters shot down the idea.
The tunnel plan came about in the early 1980s, with the idea of having a park span the freeway to connect historic neighborhoods on either side of I-10. While we call it a tunnel, it's actually 19 side-by-side bridges that stretch for 2,887 feet and support a section of the 30-acre Deck Park.
The $75 million tunnel and an adjacent section of I-10 opened to traffic in 1990, completing the freeway in Arizona. The segment also marked the completion of the coast-to-coast freeway, which stretches nearly 2,500 miles from Jacksonville, Florida, to Santa Monica, California.