Throwback Thursday: Over the bridge and under the surface
Throwback Thursday: Over the bridge and under the surface
By David Rookhuyzen / ADOT Communications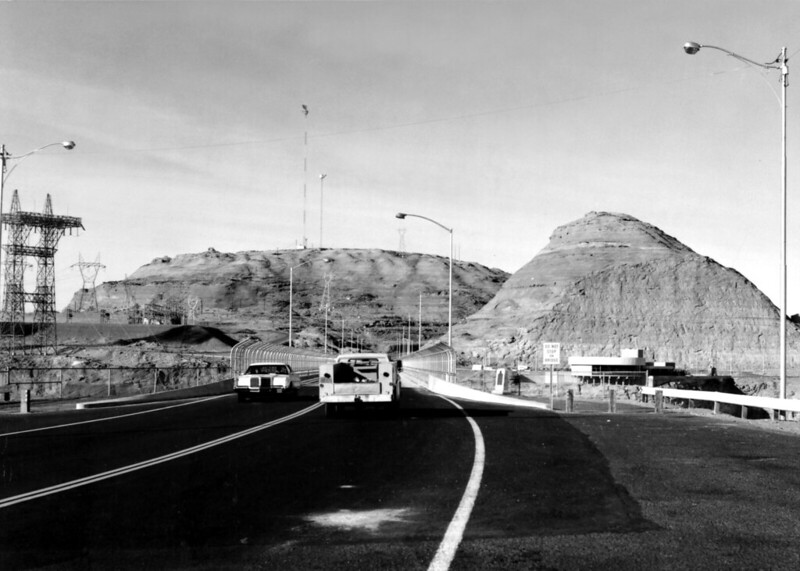 At first glance this photo might seem a little ordinary. A couple vehicles driving down a road next to some powerlines and buildings.
For those who enjoy visiting Lake Powell or, like us, are road buffs, you'll recognize this as the US 89 bridge that crosses the Colorado River just south of the Glen Canyon Dam near Page. Though, truth be told, that doesn't make this photo seem less pedestrian (pun intended).
But when we found this undated photo in our archive, we started thinking about that bridge and the US highway that runs over it. What could this ordinary scene tell us about Arizona's transportation history?
As we've told you about before, US 89 is actually the first designated north-south highway in the state and was part of the first batch of highways to actually be given a number in the mid-1920s. Our 2012 Transportation History report has a whole section just on this one highway, which adds that at one point US 89 stretched between Canada and Mexico, and was planned to be part of a projected intercontinental road that would have ended in Buenos Aires.
For the first few decades of its existence, US 89 actually stretched between Nogales in the south and Fredonia in the north, connecting Tucson, Florence, Mesa, Phoenix, Wickenburg, Prescott, Ash Fork and Flagstaff. As part of its traversing of the state, it crossed two important bridges, at Cameron over the Little Colorado River and then Marble Canyon over the Colorado River.
With the completion of the Glen Canyon Dam in 1963 and the bridge in this photo the following year, US 89's route was changed to swing through Page and then down to Flagstaff, making the Fredonia to Bitter Springs section the alternative, or US 89A. And, like most of the early highways, US 89 was heavily impacted by the interstates, which took away much of its raison d'être as a major north-south connector. By 1992, all but the northermost stretch had been decomissioned as a US highway. 
Once you consider all that, we guess it makes this photo look a lot less ordinary. What additional fascinating bits of highway history might be sitting under other well-traveled routes?