Top 10 things we learned from writing the ADOT Blog in 2015
Top 10 things we learned from writing the ADOT Blog in 2015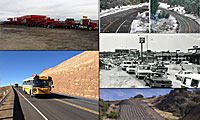 When you look back on 2015, will you remember it as the year you finally learned why Arizona has an MVD instead of a DMV?
Depending on how obsessed you are with transportation-related facts and trivia, you just might! In fact, regular readers of this blog probably have a number of ADOT-inspired takeaways from 2015. We know we do, which is why we thought it'd be fun to examine the top 10 things we learned from writing the ADOT Blog in 2015...
1) A lot of people really do love a good Sasquatch sighting. This post was published at the very start of 2015 as way to kind of explain this photo posted by ADOT to Facebook and Twitter. As of today, the photo has been shared on Facebook almost 5,000 times. It has more than 4,400 likes and more comments that we can even count. Not sure if our blog post "explanation" did much to convince the Big Foot believers.
2) Truck escape ramps serve a very important purpose. Thankfully we learned this without having to take a ride in a runaway truck. All we had to do was feature this video that shows how truck escape ramps are able to effectively stop a truck or other vehicle that has lost use of its brakes.
3) Work zones have been around for decades. We shared some photos from work zones of the past, but realized that drivers haven't always had the resources they have today that help them safely maneuver through those project sites.
4) How to repair a massive sinkhole. OK, we're not saying we could now actually repair a sinkhole on our own, but this video featured back in February showed us how crews worked to quickly repair a sinkhole on SR 89A in the Oak Creek Canyon switchbacks. The process included excavation of about 15 cubic yards of material and the use of a liquid concrete-cement mix.
5) When a road falls down a mountain, it takes a whole lot of work to fix it. In April 2015, the landslide-damaged portion of US 89 south of Page reopened to traffic. Crews had worked for months to repair the major damage caused to the roadway after a 2013 landslide forced a 23-mile closure between the junction of SR 98 in Page and US 89A near Bitter Springs. We blogged quite a bit about this project.
6) Why ADOT builds roundabouts. It was a question we'd heard many times: Why does ADOT build roundabouts? We answered with this video and blog post from September (spoiler alert: they can help to reduce crashes and improve traffic flow).
7) Some lessons can happen safely near the side of a freeway. We learned a lot when we tagged along with some ASU students as they took a "behind the scenes" tour of the Loop 101 widening project. The students heard how ADOT's Roadside Development section provides landscape, architectural and environmental technical design direction for projects statewide.
8) Why you should turn off your vehicle lights once you've pulled aside. Every year we provide a list of tips for drivers who encounter a dust storm and every year we get questions on one of those safety recommendations. In 2015, we took to the blog to explain why you should turn off your vehicle lights once you've pulled your vehicle off the road during a dust storm.
9) The Deck Park Tunnel has a history. The Deck Park Tunnel turned 25 in August 2015 and we blogged the milestone. By the way, did you know the Deck Park Tunnel isn't technically a tunnel?
10) How a 1.8 million pound load moves through Arizona (hint: very slowly). When a 1.8 million pound load was set to come through the state, we knew we had to blog about it. The haul contained a really big transformer, and while it wasn't the biggest load to move through Arizona, we learned that it was one of the heaviest transformers to ever travel on our state highways.
Happy New Year and thanks for looking back with us. We'll still be blogging about ADOT in 2016 and we hope you'll continue to follow along!