Top five reasons to download the ADOT Alerts app
Top five reasons to download the ADOT Alerts app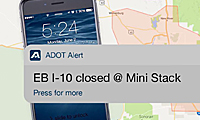 By Doug Pacey / ADOT Communications
We launched our ADOT Alerts app this week, and it's something you might rarely have the chance to use.
And that's a good thing.
But you'll definitely want to download ADOT Alerts, and here's why:
If there's an unplanned, major traffic impact in your area, you'll be notified so you can choose to take an alternate route or delay your travel plans.
We'll also send alerts that warn motorists of potentially dangerous situations affecting highway travel, like dust storms and wrong-way drivers.
Alerts will sent to targeted locations, so you might receive an alert when you're at home, school, work or anywhere else. That way, you'll be informed a traffic incident long before you get on the highway and can avoid driving into a backup.
Because alerts will be sent to targeted locations, we won't blow up your smartphone with notifications that aren't relevant.
ADOT Alerts is free – it runs on iOS and Android mobile devices.
After downloading the app, be sure to enable Location Services and Notifications. That's it. The next time you use the app might be when it notifies you of a highway closure with enough warning to re-route and avoid getting stuck in the backup.
Oh, there's one more reason to download ADOT Alerts: You can enter to win one of 200 $20 gift cards from Dutch Bros Arizona. Here's how to enter:
Download the app.
Enable Notifications and Location Services.
Wait to get an alert that sends you a link to the contest page where you can enter. You won't receive this alert right away after downloading. We'll send these alerts a few times a week through December, so keep an eye out, and winners will be notified in January.