Traffic breaks and I-15 construction
Traffic breaks and I-15 construction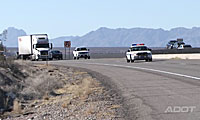 You've heard of a coffee break and a spring break, but how about a traffic break?
Traffic breaks are typically conducted by highway patrol officers to create a gap in traffic. That gap gives project crews a span of time in which to complete work within a traffic lane.
As you can hear in the video above, traffic breaks are sometimes used instead of a complete traffic stop.
"Instead of a car coming around a corner to traffic stopped, they're coming around to traffic moving at 30, 40 miles per hour and they're able to slow down safely" says ADOT Resident Engineer Adam Carreon in the video.
I-15 bridge girder installation
Work continues on the I-15 Virgin River Bridge No. 6 rehabilitation project and beginning on Monday, Feb. 23, crews will install the girders on the new southbound bridge structure.
This work, which will continue through the end of March, will require intermittent traffic breaks to allow for the safety of both construction crews and the traveling public. Work hours will be Monday through Thursday from 6 a.m. to noon.
Motorists are reminded to slow down and drive carefully through the work zone and be alert for construction equipment and personnel.
The $27 million rehabilitation of Virgin River Bridge No. 6 (milepost 16) began in March 2014, and is anticipated to be complete in 2016. This significant project includes the replacement of the bridge's superstructure (girders, deck and railings), as well as widening the roadway through the narrow passage of the Virgin River Gorge.
Find more details on the project page by checking out our previous posts.