Transportation tunes still riding an expressway to my heart
Transportation tunes still riding an expressway to my heart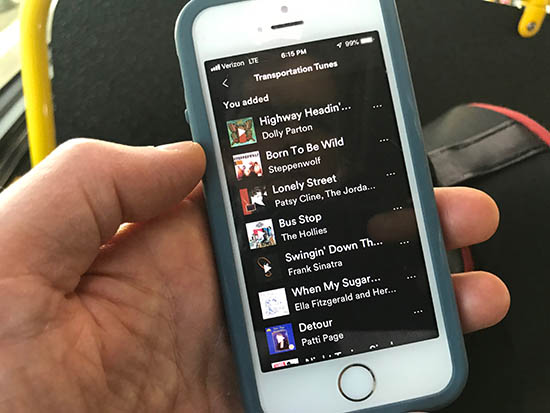 By Steve Elliott / ADOT Communications
A year ago, I shared how I'd spent more free time than I should developing playlists of songs related to transportation: one for my phone and one on Spotify that everyone can enjoy.
Well, I'm still at it. AZ Transportation Tunes, posted by our Spotify account at ArizonaDOT, is approaching 100 songs that celebrate or at least mention ways we get around. You can follow this link to sample it, but the full experience requires a free Spotify account.
So what's new to the list since I last shared this hobby of mine? For me, the highlights include Dolly Parton taking a "Highway Headin' South," Patsy Cline strolling down "Lonely Street" and Dionne Warwick sharing mixed feelings about "Trains and Boats and Planes," shown at right. There also are some great covers, such as Shawn Colvin singing "Lodi," The Cheetah Girls' live concert version of "(Get Your Kicks on) Route 66" and Christina Aguilera and Missy Elliott's "Car Wash" mix from the movie "Shark Tale." With apologies to the Soul Survivors, I'd much rather listen to Margo Thunder's funk-infused rendition of "Expressway to Your Heart."
I've used the past year to address the playlist's deficit in songs about trucks. Del Reeves is "Looking at the World Through a Windshield," while New Riders of the Purple Sage offer one of many memorable versions of "Truck Drivin' Man." Minnie Pearl and Commander Cody and his Lost Planet Airmen tug at the heartstrings with "Giddyup Go Answer" and "Mama Hated Diesels," respectively. And how had I missed "Eighteen Wheels and a Dozen Roses" by Kathy Mattea (at right)? Meanwhile, Jerry Reed's "East Bound and Down" from the movie "Smokey and the Bandit" made my personal list but not ADOT's given its focus on a certain adult beverage.
There's a category I call "Amazing discoveries one makes when Googling 'songs about cars/boats/trucks/planes/trains/etc.'" That yielded Dinah Washington's rendition of "Red Sails in the Sunset" and Alison Krauss' "Endless Highway," among other great songs.
Then there's a category I call, "How did I forget that song?" With an eye toward infrastructure, a coworker noted the omission of the Yes hit "Roundabout" (which requires an investment of more than 8 minutes, by the way). No road trip or movie montage would be complete without Jackson Browne's "Running on Empty" (at right). To my shame, I'd left out Steppenwolf's "Born to Be Wild" and The Who's "Magic Bus." I'd also forgotten "Midnight Train to Georgia" by Gladys Night and the Pips.
If your data plan and vehicle sound system are better than mine, you might want to consider trying out our playlist during your summer travels. You could wind up "Rockin' Down the Highway," "Swinging Down the Lane" or "Walking in the Rain,"