Tucson MVD gets facelift
Tucson MVD gets facelift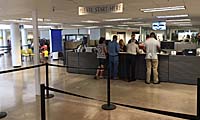 By Doug Nick / ADOT Communications
Everybody likes an upgrade, right? And even though the Motor Vehicle Division continues to make it easier for our customers – you – to get things done with us online, there are those times when a visit to an MVD location is needed.
Sometimes, an office needs a facelift.
For the good folks in Tucson, an upgrade of MVD's Regional Service Center – the largest MVD office in the Old Pueblo – was definitely in order, and MVD has delivered.
We took an office that was designed for a different era (think back to when MC Hammer still made hit music) and turned it into an efficient, open environment that serves 21st century customers.
We ripped out walls that interrupted foot traffic. We installed energy-efficient LED lights, expanded our vehicle road test and inspection areas, and modernized our infrastructure to accommodate the rapidly changing computer environment for our employees.
One thing we didn't change was our ongoing commitment to improvement. The time it takes to get in and out of our urban offices statewide is below 30 minutes and often lower.
MVD's vision is to get you out of line and safely on the road. At the Tucson Regional Service Center, our "facelift" made that a little bit easier.