Turn your week around with National Roundabouts Week
Turn your week around with National Roundabouts Week
By David Rookhuyzen / ADOT Communications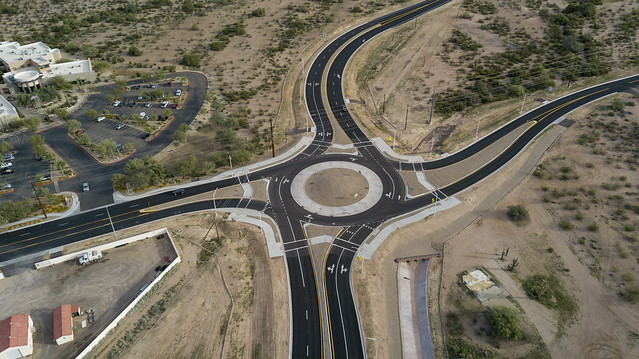 It's been a busy week around here as we helped kick off Child Passenger Safety Week and promoted National CleanUp Day on Saturday. But among this hustle and bustle, we also felt it was important to highlight another happening this week, celebrating the roundabout.
Yes, that's right. The Federal Highway Administration has dubbed the third week in September as National Roundabouts Week in order to tout the safety and traffic-moving abilities of modern roundabouts. You can head to that agency's page celebrating the week, which is full of driving tips and safety facts, along with demonstrations and facts about the benefits of roundabouts, shared by departments of transportation across the country. Don't be surprised if you even happen across a video we produced in 2015 about how to easily navigate a modern roundabout. 
There are more than 4,000 roundabouts in the U.S. The first in the nation was constructed in Summerlin, Nevada, in 1990. Carmel, Indiana, alone had built 125 as of this summer.  
The Federal Highway Administration touts roundabouts because of their demonstrated track record of improving safety, including the fact that they cut down serious crashes by nearly 80 percent. Research by the Insurance Institute of Highway Safety breaks that down a little further, saying that roundabouts reduce fatal crashes by 90 percent and injury crashes by 75 percent.
Along Arizona's highway system, you can find roundabouts at an interchange for the South Mountain Freeway at Estrella Parkway, on State Route 88 at Superstition Boulevard and on Interstate 8 at Araby Road in Yuma, just to name a few recent additions.
You can learn more roundabout safety facts and navigation tips at this dedicated page on our website.